Search engines we have known ... before Google crushed them
Dot.coms of the past slurped themselves into oblivion
---
Ask Jeeves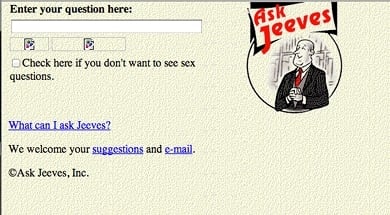 Ask Jeeves
From the beginning, Ask Jeeves had a different take on searching the web, starting out with its signature question-and-answer site in 1996. Garrett Gruener and David Warthen in Berkeley were responsible for designing the original site, which was programmed by Gary Chevsky.
The most iconic part of Ask Jeeves was no doubt Jeeves himself, named after the fictional character in P.G. Wodehouse's novels, memorably played on TV by Stephen Fry. The valet posed next to a text box into which natural language questions could be typed and then answered in the form of web results.
In 2005, the company started phasing out the character of Jeeves as it became Ask.com, pretending he was going into retirement. At the same time, the site was slurped by InterActiveCorp (IAC). Ask did regular web searches as well as the Q&A format and introduced "binoculars" to preview results.
Jeeves came back to the UK and Ireland's uk.ask.com in 2009 and the following year, realising that Google was an unstoppable search juggernaut, Ask reverted to its old-school question answering style with web search matches provided by its Chocolate Factory rival.
Garret Gruener is a co-founder of Alta Partners, a venture capital firm, and also had political aspirations. In 2003 he was a candidate for the Democratic Party in the California recall election.
David Warthen went on to video streaming firm GlobalStreams and also founded Eye Games, a kid's game company. He's now CTO at InfoSearch Media.
Lycos
Another top dog of the early internet was Lycos, a search engine and portal that launched in 1994. The site, featuring the recognisable yellow dog logo, has changed hands a few times in its history.
Lycos was developed as a research project by Michael Loren Mauldin at Carnegie Mellon University and just two years later completed the fastest IPO in NASDAQ history. In 1997, it was one of the first profitable internet businesses in the world.
From 1998, Lycos looked for a way to spend those profits, slurping Tripod, Gamesville, Who Where, Quote.com, Matchmaker.com and more until it sold itself during the dot.com bubble in 2000 to Terra Networks, part of Spanish telco Telefonica. The Spanish firm paid $12.5bn for the engine.
Four years later, Terra was ready to part from Lycos, selling it onto Korean company Daum Communications at the considerably reduced price of $95m. After that, Lycos started to tighten up its service, getting rid of bits like Quote.com and Matchmaker.com. The site has dabbled in video, social networking and email as well as search and since 2010 has been owned by Ybrant Digital, an Indian digital marketing firm.
Michael Mauldin more or less retired in 2006, although he directs the board at Conversive, a company he founded that deals with online customer support. He's also a competitor in the Robot Fighting League and once ran a combination restaurant and combat arena called the Robot Club & Grille. ®