END OF THE WORLD IS NIGH: TalkTalk no longer worst ISP in UK
This just in... Mayans really were onto something
---
Even Ofcom was surprised to report today that TalkTalk is no longer the UK's number one most bitched about broadband provider. In a sign that the world may actually end this Friday, TalkTalk was ingloriously pushed into second place by Orange.
TalkTalk, headed up by one-time jockey Dido Harding, saw its horse finish second in the watchdog's quarterly table of customer complaints about ISPs. But it was not all, er, good news for TalkTalk, which led the race as the most griped about landline provider during the last three months.
Meanwhile, BT is creeping up the chart: complaints to the watchdog about the telco's landline and broadband services both surpassed the industry's average number of grumbles per 1,000 customers.
The regulator said that in the broadband stakes TalkTalk had, for the first time since Ofcom began publishing the numbers, finally been demoted to being the country's second most complained about provider during the third quarter of 2012.
Orange earned the accolade of most griped about ISP due to a spike in complaints in September. Gripes about its broadband service per 1,000 users rocketed from 0.29 in the second quarter of 2012 to 0.50 the third quarter.
"This appears to be related to Orange's customer notification of the withdrawal of its free broadband offer unless customers acquired line rental from the company," Ofcom explained.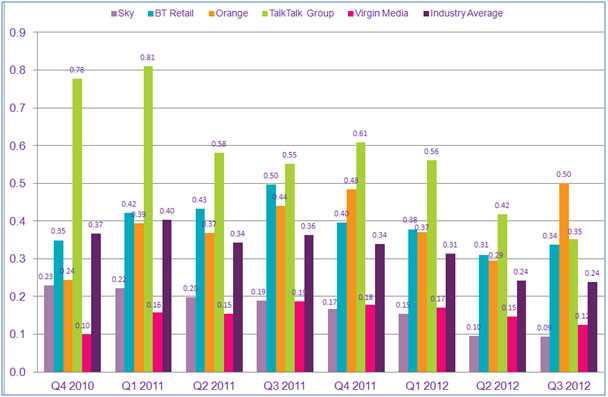 Fixed broadband complaints per 1,000 customers (Source: Ofcom)
TalkTalk generated 0.35 complaints per 1,000 subscribers, down from 0.42 in the previous quarter, the regulator said. BT's customer complaints figure nudged up from 0.31 in Q2 to 0.34 in Q3. In contrast, very few people moaned about BSkyB's broadband service; it had just 0.09 complaints per 1,000 punters, down from 0.1 in the previous quarter, Ofcom said.
As for landline telephone services, the watchdog said TalkTalk is improving even though it generated by the most complaints during the third quarter of this year: 0.39 grumbles per 1,000 customers, but down from 0.52 in the previous quarter.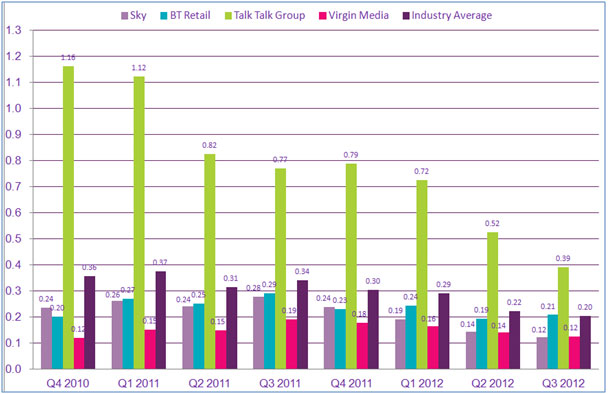 Landline telephone complaints per 1,000 customers
"Although remaining well above the industry average, TalkTalk complaints continued to fall quarter on quarter, mainly due to a significant reduction in billing-related complaints," Ofcom said.
"BT complaints moved above the industry average level to 0.21 complaints per 1,000 customers in Q3, increasing from 0.19 the previous quarter."
And users of the national telco's pay-TV service kicked up a stink, too. Ofcom said that from July to September 2012 it received the most complaints about BT Vision: 0.23 complaints per 1,000 customers.
"Despite a marginal decrease from 0.25 the previous quarter, complaints about BT Vision are still six-times greater than the industry average. Complaints were partly driven by problems with service provision," the regulator noted.
"Virgin Media attracted above industry average complaints at 0.06 complaints per 1,000 customers, while BSkyB had the lowest number of complaints: 0.02 per 1,000 customers." ®