Yahoo!'s Mayer, Apple's Cook 'Person of the Year' finalists
Don't blame 4chan, they were picked by Time editors
---
Time magazine has revealed its "shortlist" for its annual Person of the Year award – the honoree to be revealed this Wednesday morning – and for reasons known only to the editors of that 89-year-old clarion of democracy, Yahoo! CEO Marissa Mayer and Apple CEO Tim Cook are among the eight finalists.
We don't wish to be unnecessarily unkind, but we must point out that Cook has presided over a drop in Apple's stock price from a high of $702.10 on September 19 to this Tuesday's mid-day low of $520.25, and Mayer ... well ... let's just say that honoring her this early in her Yahoo! career would be the equivalent of granting a US president the Nobel Peace Prize only a few months into his first term.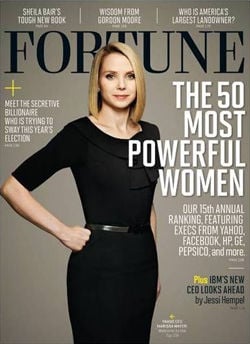 Yahoo!'s Marissa Mayer, official 'Powerful Woman'
Oh, wait – that actually happened. Never mind...
Mayer and Cook join six other finalists (or groups of finalists) who each arguably had more influence on world affairs – or, at minimum, world mindshare – than they: Egyptian president Mohamed Morsi; that aforementioned Nobel Prize–winning US president; the Pakistani teen shot by the Taliban, Malala Yousafzai; US political power-pair Bill and Hillary Clinton; the possible "particle of the year", the Higgs boson, along with three scientists who helped discover it; and the group referred to by Time as "Undocumented Americans" and by Fox News and their devotees as illegal aliens.
The finalists were chosen by Time editors, but only two and a half of them made it into the top ten of Time's reader recommendations as to whom should be so honored: Morsi, the undocumented, and the distaff half of the Clinton duo.
The top-polling reader honoree, by far, was the baby-faced North Korean bad boy Kim Jong-un, who pulled in a hefty 5,635,941 votes, well over twice that of the readers' number two, faux newsman Jon Stewart, at 2,366,324.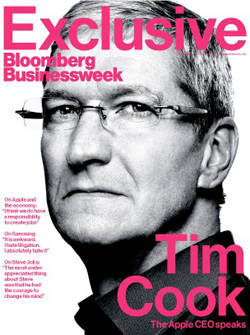 Apple's Tim Cook, stern and in command
Kim, however, as Time has admitted, benefitted mightily from efforts by a 4chan hack attack to fix the vote – a fact apparently lost on the North Korean government, who trumpeted Kim's achievement, saying that he had been selected by Time subscribers, "including politicians, businessmen, artistes, sportspersons and announcers."
For their parts, Mayer (21,056 reader votes) and Cook (13,833) didn't even rank as highly in readers' estimation as "Gangnam Style" creator (singer seems a wee bit overstated) Park Jae-sang, better known by his nom de rap, PSY, who reaped 100,722 nods.
PSY's negative votes – "No Way", in Time's system – nearly balanced his positives at 100,308. Neither Mayer nor Cook faired well in that department, either, with Mayer pulling in 87,672 No Ways and Cook a whopping 100,623.
Unless 4chan had something to do with Cook's negatives – and, for that matter, with everything else in the reader poll – we can only assume that a substantial number of the anti-Apple Reg commentards who weigh in on each and every one of our Apple-related stories found their way over to Time's reader-voting page. ®
Bootnote
Kim Jong-un's number-one ranking was not the only manipulation of the Time vote that 4chan pulled off this year. As Gizmodo points out, the first initials of the top 14 readers' picks spell out KJU GAS CHAMBERS, a not-so-coincidental coincidence that would likely require a million of those Shakespeare-typing monkeys to pull off.
Similar topics
Broader topics