This article is more than 1 year old
PayPal founder funds 'tornado-driven' power plant
Green science or mad?
PayPal co-founder Peter Theiss' Breakout Labs has spun some pin-money in the direction of a Canadian inventor who claims to have a "zero-carbon" electricity generator that works by creating a captive "atmospheric vortex".
Or, in the more hyperbolic language of Breakout Labs, AVEtec, it's a "tornado" driven generator.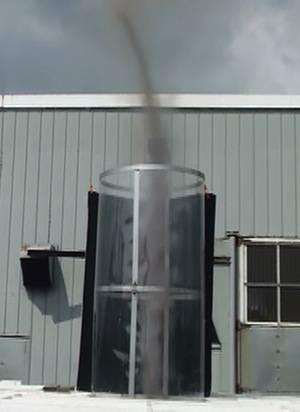 AVEtec prototype vortex chamber
AVEtec's claim is that it can use waste heat from facilities like existing power plants – which is a fairly loose interpretation of the expression "zero carbon" – to heat air at the intake of its generation chamber. Warm or humid air entering the bottom of the chamber at the right angle, the company says, will produce a vortex within the chamber, with turbines designed to harvest that energy at the top.
Breakout Labs is putting $300,000 into a proof-of-concept designed to prove one way or the other whether the phenomenon can produce useful amounts of power at the low cost claimed for it (Breakout's media release puts the price at as little as 3 cents per kilowatt-hour).
At a diameter of 100 meters, the outfit says, it could harvest enough energy to produce 200 MW of power. The test receiving Breakout Labs funding is of a more modest scale: a little over 30 meters tall and nearly eight meters in diameter.
Using heated air to generate power isn't new, of course. That's also the principle behind solar thermal power – Australia's CSIRO has such a plant in Newcastle and is working on an $AU87 million project to cut the generation price from 25 cents per kilowatt-hour down to 10 cents.
AVEtec president Louis Michaud explained the principles in an article in Mechanical Engineering, here. ®