Embattled Xyratex prepares poison pill: You'll never take me alive!
Builds takeover defences as it moves into HPC arrays
---
Xyratex, the OEM supplier of disk drive arrays that has been facing troubled times for while now, has erected a poison pill defence and is paying dividends to keep its shareholders happy as it moves into HPC array building.
The company, which sells disk drive arrays on the OEM market, has moved into the high-performance computing array market with the ClusterStor range, and supplies test equipment to disk drive manufacturers. This part of its business has been hit by the incursion of its competitor, Teradyne, and by the contraction of disk drive suppliers to just three: Seagate/Samsung, Toshiba, and Western Digital/HGST.
The third quarter results and background situation were covered here and we noted CFO Richard Pearce's comment that: "We expect revenue for the fiscal year 2013 to be down as compared to the fiscal year 2012 towards levels where we may incur losses."
Xyratex has decided to splash out with a one-time special cash dividend of $2.00 per share to be distributed on 31 Dec. It has also declared its quarterly cash dividend will be $0.075 per share and that will be paid at the end of the year too instead of when the fiscal 2012 results come out on 10 January.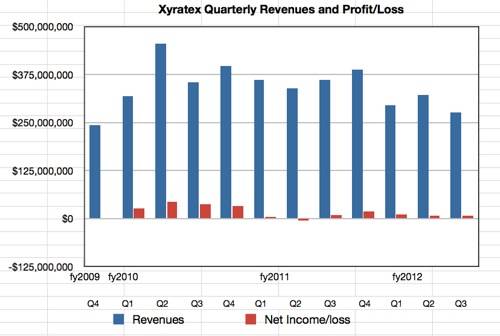 Xyratex revenues and net income to third quarter, fy 2012
Whence comes this this largesse? CEO Steve Barber said: "The company's solid, debt-free balance sheet and projected cash generation allow us to pay approximately $58m of special dividends together with approximately $2m of accelerated quarterly dividends from cash on hand while maintaining the flexibility to continue to invest in our business. Our board believes paying these dividends at this time will provide additional value to our shareholders."
Hmm. We think the canny Barber and his board want to keep stockholders happy and committed to the current board and execs as the company faces a loss-making 2013. The dividends are carrots and the board and Baber have also created a stick to hit any would-be take-over candidates. Here it is:
[The] Board of Directors has adopted a shareholder rights plan, pursuant to which the Board of Directors declared a dividend distribution of one preferred share purchase right on each outstanding common share of the Company.

Subject to limited exceptions, the preferred share purchase rights will be exercisable if a person or group acquires 15 per cent or more of the Company's common shares or announces a tender offer for 15 per cent or more of the common shares.

... The rights are intended to enable all of the Company's shareholders to realise the long-term value of their investment in the Company. They do not prevent a takeover, but should encourage anyone seeking to acquire the Company to negotiate with the Board of Directors prior to attempting a takeover. The rights will expire on December 17, 2013.
It's pre-emptive action to keep activist investing sharks - are you listening Elliot Management and others? - at bay or, if they do feel ambitious, provide Xyratex with a strong negotiating platform, while Barber and his team re-position the company.
Stifel Nicolaus analyst Aaron Rakers said: "We believe investors could view this as a positive indication of the company's ongoing transformation toward higher margin HPC/cloud opportunities within the company's Enterprise Disk Storage Solutions (EDSS) segment. This comes as the company is likely to continue to see the already known/modeled burn-off of the existing NetApp OEM relationship, as well as likely ongoing pressures on the company's Dell business going forward. We also expect ongoing pressures on the company's HDD capital equipment segment as the HDD industry looks to continually rationaliSe production capacity relative to demand."
Xyratex will announce its fiscal 2012 year and fourth quarter results on 10 January next year. El Reg's thinking: if it's necessary to pay dividends and put a poison pill defence in place, the results could be bloody indeed.
Maybe there's an opportunity here for some HPC/Big Data storage supplier rationalisation. Perhaps Barber and his board and team know this and have possibly thought about looking for safety inside the welcoming arms of a bigger supplier but rejected the idea. Whatever happens, 2013 is certainly going to be an interesting year for HPC/Big Data drive array suppliers. ®