Cameron defends U-turn on web filth ban, leaves filtering to parents
'Crude' ISP-level censorship WON'T work, says PM
Prime Minister David Cameron today reminded British families that they will be nudged by ISPs to consider blocking online pornography, self-harm websites and similar material at home.
Crucially, he stopped short of installing the on-by-default "crude system" of network-level web filters promised earlier this year.
The top Tory took to the pages of the Daily Mail this morning to explain the climbdown on filtering by his government, a change of heart that was welcomed by the telecoms industry.
Oddly, the Mail rather generously heralded Cameron's comments as a "victory" for its campaign to force ISPs to censor web smut. The newspaper had envisaged red-faced Brits contacting their providers to ask for access to pornography blocked by default at the network level. Instead, parents will have to ensure they configure their internet connection correctly.
Cameron, clearly keen to offer some sort of concession to middle England, said folks who quickly click through their family broadband's filtering settings without paying attention would stumble into "a kind of 'default on' for houses with children".
This so-called "active choice" option is favoured by telcos and allows their subscribers to decide what level of filtering - if any - they want to apply to their individual service. TalkTalk is the only big name ISP to offer network-level blocking of websites using a system that has proved to be far from perfect.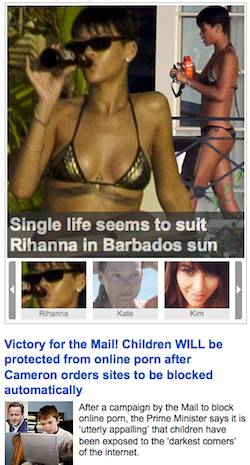 Daily Mail online: Unfortunate juxta-PHWOAR-sition
Although, Cameron appeared to indicate today that parents would be nagged into submission if they failed to safeguard their kids against the "darkest corners of the internet". He said:
Want to restrict access to Facebook after 8pm? Decide to allow younger children to view fewer sites than their older siblings? Or want to stop access to certain sites altogether? Now you will be shown how to do it.

To make this doubly safe, if parents just repeatedly click 'OK' to get through the filter set-up quickly, then filters against the most obvious threats – like pornography and self-harm sites – will be left on.
In other words, parents living with their children must remember to click on "no thanks" to filtering, otherwise their internet access will be restricted accordingly to block supposedly harmful material.
Tory MP Claire Perry, who was "disappointed" that her push to block online porn and violence by default was defeated, has now been appointed by the PM as his adviser on preventing sexualisation and commercialisation of childhood.
She'll be busy lobbying ISPs about keeping kids safe online even as the industry continues in its hands-off mode. ®