Greenbytes and Pure Storage are both start-ups well under way with fast and ground-up designed all-flash arrays. Both have a strong VDI focus and say that serving virtual desktop images from their flash arrays is consistently and reliably fast, affordable and secure, and makes hard disk drive arrays look like sluggards.
They each think they have the best all-flash array VDI product. We asked both companies about each other and the VDI market and this is what they said:
The Register: How would you generally view Pure Storage's entry into the VDI market?
Greenbytes' CEO Steve O'Donnell: Although their solution shares similar hardware architecture (Intel processors and SSD) and features deduplication, they weren't pitching specifically for VDI back then, and this was only a few months ago. It's not hard to surmise that with all the attention GreenBytes is getting with our IO Offload Engine, many flash players are hopping on board the VDI train which is gaining steam every day, Pure has decided to step up their marketing and say "us too!" for the VDI use case. Their target previously seemed to be simply replacing Tier 1 storage with flash.
And as you know, Pure have only recently started selling in the US and opened in Europe just a month or so ago. So, we are far ahead as far as software and overall product maturity. They are well-funded and it shows; however, there can be no substitute for the best technology for desktop virtualisation, and we firmly believe that we have it. It's all about full clones - the Holy Grail of VDI, and we deliver them better, easier, with more compatibility and more cost-effectively than anyone else.
Pure Storage's Matt Kixmoeller, VP of product marketing and management: Pure has identified VDI as a key use case since the company launched in August of 2011. It's been on the website and has been mentioned multiple times in public-facing documents. For example:
The purpose of our recent announcement was not to "begin" selling into the VDI market, but to release important deliverables needed by VDI customers. The primary one [is] a new reference architecture that explains how to get the best performance results and build a scalable infrastructure based on all-flash memory. In effect, the announcement demonstrates a step forward in maturity and completeness of solution. Our design enables customers to overcome what has slowed down the VDI market the last five years: to successfully cross the scaling chasm into which so many VDI projects fall victim. Our reference architecture achieves the fastest application performance recorded for VMware View, off of a platform that was designed for cost and power efficiency.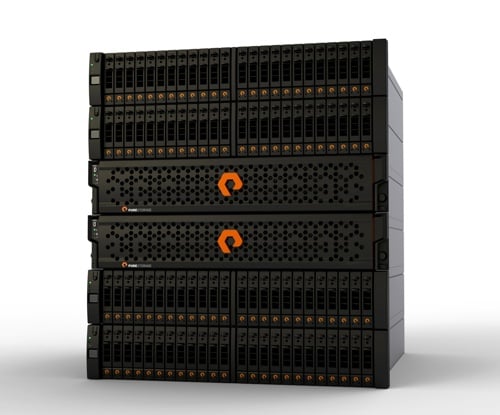 Pure Storage FlashArray
One of the important things happening in the market, we believe, is that flash memory is making it possible for VDI deployments to truly take off. Storage cost and performance had been a key hindrance to wide scale VDI deployments. In fact, today virtual desktops are still a very small percentage of overall enterprise desktops, somewhere below 3 per cent. That's not because companies don't believe in the promise of VDI. Rather, it's been for practical reasons: as you scale, the desktop application performance is brought to its knees, users revolt, and you find yourself buying and supporting physical desktops again. Flash is changing that, specifically when the flash is both fast enough and affordable.
With respect to product maturity, since we do our product development in Mountain View, the opening of sales offices in Europe really have nothing to do with it. We've had systems deployment with customers for more than two years in mission-critical storage environments (which we consider VDI deployments to be). The funding we've received has predominantly been used to harden the core product, because getting this right is so important.
The Register: Pure Storage has data reduction like Greenbytes. Doesn't that make it equal on that front?
Greenbytes Steve O'Donnell: It's important to note that their OS is Linux-based, so their claims of deduplication may actually be compression dressed up. The performance that Pure demonstrated to us back at VMworld (120K IOPS on 4K 100 per cent read) was also less than that of GreenBytes (200K IOPS on 8K 50/50 r/w). For ESX 8k is the native block size so 120k IOPS is really 60k blocks.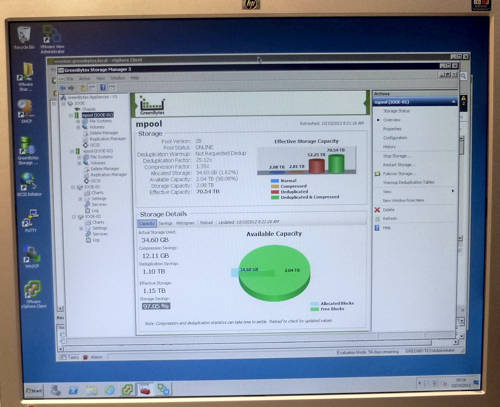 Greenbytes management screenshot
Pure Storage's Matt Kixmoeller: We achieved a score of 0.52 on the VMware ViewPlanner workload, which is the fastest score for an all flash solution. Our datasheet states we support 200K IOPS. However, the true measure of performance is application speed of the virtual desktops running on the platform. That's why we built the reference architecture - so potential users will know exactly how to judge the performance of the FlashArray against alternative approaches. All of these details are in the reference architecture we recently announced. We're not aware of what Greenbytes has achieved.
Pure Storage's solution for space efficiency includes global, always-on, in-line deduplication, which is entirely different from compression. The compression solution is comprised of multiple algorithms, applied at a variety of stages throughout the life of data stored, to minimize the physical space used. As an example, if you leave data on the storage array, it will just shrink by itself as these algorithms are applied over time.
The point here is that not all data reduction and all dedupe solutions, are created equally. Users will benefit from comparing how data reduction solutions vary. A check mark on a datasheet isn't going to tell you what kind of efficiency you can expect, initially and over time.
Greenbytes' Steve O'Donnell: It's also important to note that GreenBytes holds the seminal patent for inline deduplication for primary data. I know a bit about the flash market and what is important and this is the key reason I agreed to join the firm, it's not hard to understand the patent, its incredibly wide and its smart. Your article was on the money - we have real in-line dedupe with insane ratios and no latency. We can fit a quart into a shot glass.
I challenge anyone to a full on bake-off of VDI View performance and scalability. Full clones for good user experience - 40GB full images and 2GB of swap, cloud scale - 5000 users plus, with resilience and high availability and installed in 30 minutes.
Pure Storage's Matt Kixmoeller: Based on a scan of this page, which documents all VMware-certified View rapid desktop solutions, GreenBytes has yet to complete the complex and rigorous testing required in order to provide VMware View customers with the confidence that their solution works on this platform: www.vmware.com/resources/compatibility/vcl/poc.
We are general purpose storage: general purpose storage that happens to excel and differentiate itself when applied to VDI environments. We feel this is a key competitive advantage, because you don't have to dedicate our array solely to VDI or to virtualisation. Most of our VDI deployments are, in fact, mixed deployments where our customers are using us for multiple workloads.
The Register: That's a neat way to close this discussion. Should you have a pure VDI system from Greenbytes or a general purpose one from Pure Storage? One for the marketeers we think. ®