Little spider makes big-spider-puppet CLONE of itself out of dirt
There are no strings attached
---
Meet the adroit arachnid that makes a decoy "spider" in its web to mislead predators – and jiggles the strands like a puppet master to make the miniature marionette move.
No, really, that's according to conservation biologist Phil Torres, anyway. His full story is here, the spider is apparently alive and well in the Amazon, and a photograph of the decoy is below.
The fake looks like a spider at a distance if your eyesight isn't so good. It's no Madame Tussauds waxwork but it's a fair imitation of a spider.
Especially if it starts to move. From the source:
As you approach, the spider starts to wobble quickly forward and back, letting you know this spider is, in fact, alive.

Step in even closer and things start to get weird - that spider form you were looking at is actually made up of tiny bits of leaf, debris, and dead insects. The confusion sets in. How can something be constructed to look like a spider, how is it moving, and what kind of creature made this?
Even better: the trickster – the spider that makes the copy and makes it wriggle – is just 5mm long, a member of the genus Cyclosa; its relatives are less-sophisticated and merely hang the debris in their webs.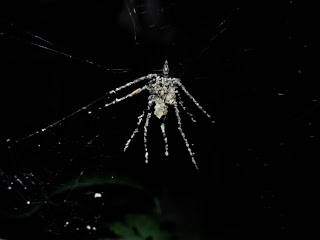 A fake spider apparently built by a real spider
Credit: Phil Torres
The newly discovered creature, found at the Tambopata Research Center, seems to base its marionette on a rough copy of itself, which is the kind of evolutionary outcome that's probably not easy to predict from first principles, except of course that it's been observed and photographed, we're assured.
After Torres found one specimen, they showed up like buses: he was able to document another 25 individuals. ®