iPhone tops US market, but trounced by Android in world+dog
UK smartphoners prefer Android, but not as much as their EU brethren
---
Apple's iPhone now accounts for over half of US smartphone sales, but in the UK and the rest of Europe – and the rest of the world, for that matter – Android phones still hold a healthy lead.
"Apple has reached a major milestone in the US by passing the 50 per cent share mark for the first time, with further gains expected to be made during December," said Dominic Sunnebo of Kantar Worldpanel ComTech, which conducted the research behind their sales-share report.
The report, from the London-based "consumer knowledge and insights" research group Kantar Worldpanel, provides information on 2011 and 2012 smartphone sales in nine countries, plus combined stats for the UK, Germany, Italy, France, and Spain, during the 12 weeks leading up to late November of those two years.
In the US, sales of iOS-based phones – Apple currently offers the iPhone 5, 4S, and 4 – grew a healthy 17.5 per cent from the 2011 period to the 2012 period, rising to 53.3 per cent of all US smartphone sales. This bump was no doubt helped by the arrival of the iPhone 5, which was available during nine weeks of the 2012 survey period.
Android sales in the US, on the other hand, dropped by 10.9 per cent to 41.9 per cent. RIM's BlackBerry phones also lost sales share to Apple, dropping from 7.0 per cent in the 2011 period to a mere 1.4 per cent in 2012.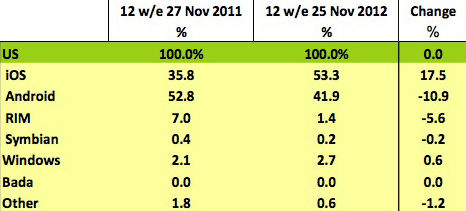 iPhone are increasing their sales-share lead in the US ...
The story is quite different in the UK. Although iPhone sales grew by 5.3 per cent, followed close behind by Android phones' 4.9 per cent growth rate, Blighty-based smartphoners still prefer Android by a wide margin, with over half of the handsets sold in the UK – 51.5 per cent – being Android-based as opposed to just over a third – 36.1 per cent – being iOS based.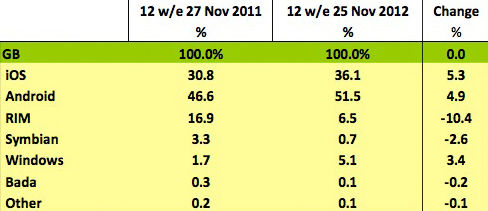 ... but remain well behind Android–based phones in the UK
In the combined stats of the five European countries surveyed, the Android lead is even greater: 61.0 per cent to the iPhone's 25.3 per cent. Of those five countries, the UK had the highest percentage of iPhone sales, and Spain by far the lowest: a mere 4.4 per cent and sinking. Android sales share is rising faster than the iPhone's in the five European countries combined, as well: 9.2 per cent to 2.5 per cent.
The stats also don't look good for the iPhone in Australia and Brazil. In Oz, the Apple handset's sales dropped by 5.4 per cent, slipping to a 35.9 per cent sales share, while Android phones gained 11.3 per cent and now top that country's market with 58.0 per cent of smartphone sales.
In Brazil, Android sales exploded, rising an impressive 31.8 per cent to dominate the market with a 60.7 per cent share. The iPhone? Not so hot: its sales share was cut in half and now sits at a negligible 1.6 per cent.
On the sidelines of the iPhone-Android battle, the UK is seeing a bit of a rise in Windows phones – but it's rather feeble. "Nokia is managing to claw back some of its share in Great Britain through keenly priced Lumia 800 and 610 prepay deals," Sunnebo says.
Those phones, however, aren't doing well in the crucial young 'n' hip market.
"Nokia continues to find it tough to attract younger consumers in Great Britain," Sunnebo says. "Over the past six months, just 28 per cent of Nokia Lumia 800 sales have come from under 35's, compared with 42 per cent of all smartphone sales."
Also in the UK, smartphones in general are being snapped up at a faster rate, with 83 per cent of all phones purchased during the 2012 period being smartphones, which now account for 60 per cent of all phones in the UK.
While Apple's iPhone sales may have passed that 50 per cent milestone in the US, Kantar Worldpanel ComTech's stats show that Cupertino is losing the smartphone war in hefty chunks of the world. ®