Micron struggling to get its flash surfboard up on the crest
Is that blood in the water, or just more red ink?
---
DRAM and NAND chip supplier Micron has recorded its sixth loss-making quarter with revenues the lowest they have been for almost three years. How long can this go on?
Revenues in the first fiscal 2013 quarter plunged to $1.8bn, 14.6 per cent lower than a year ago and 10 per cent down on the previous quarter. Micron declared a net loss of $275m, which compares to a net loss of $253m in the prior quarter and $187m in the year-ago quarter. Things are getting worse and the chart shows the declining revenues and deepening red ink.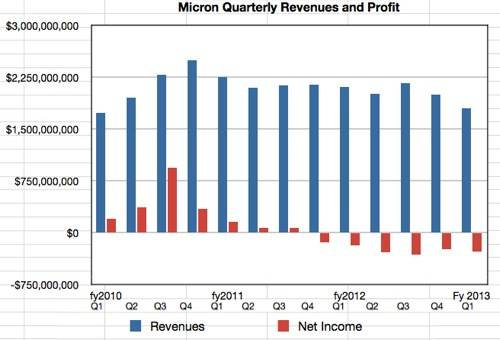 Micron says trade NAND flash products sales revenue was 4 per cent lower in the quarter compared to the previous quarter "due to a 9 per cent decrease in sales volume, partially offset by a 5 per cent increase in average selling prices." Micron produced a smaller volume of flash products in the quarter.
On the DRAM side product sales revenue was down 9 per cent compared to the previous quarter mainly because of an 11 per cent fall in average selling prices. NOR revenues and sales were flat.
Well this isn't much fun. What did management say to justify its continued employment?
In the earnings call CEO Mark Durcan admitted that "our first fiscal quarter was somewhat of a tumultuous one as we dealt with shifting market demand and internal operations disruptions ... Our sales volume for both NAND and DRAM was below our initial forecast for the quarter as we experienced some manufacturing and supply-chain challenges. We are confident these issues have been addressed and will not negatively impact fiscal Q2."
He wouldn't go into the manufacturing difficulties in any detail at all, merely saying it was "a combination of different events in front-end, back-end manufacturing, some internal, some external. I think in concert with some knock-on effects that the disruptions created in our overall supply chain really just led to inability to get all the products out."
What's Micron doing to lower its costs? Not much, to be blunt. Durcan said:
"We have discontinued most activity into our Solid-State Lighting Program and then moving this program toward a technology-licensing model."
Micron is also closing a facility in Israel. The Elpida acquisition continues its tortuous progress:
"The Tokyo District Court has submitted Micron's proposed reorganisation plan to the Elpida creditors, and they expect to complete the voting phase by the end of February. In addition, we have entered Phase 1 review in China and continue to work towards government approval of all the required countries. We expect to close sometime in the first half of 2013."
Durcan noted that industry DRAM capacity is moving away from the low-growth/no-growth PC market to high-growth mobile and server applications which need fewer bits which should "result in a more favourable supply-demand balance in PC DRAM as well [as mobile and server markets]."
Concerning NAND, he said:
We don't see any significant capacity additions to the market in 2013. And as with DRAM, process technology migrations are getting stretched out, which is -- which has the effect of reducing supply growth compared to prior years while demand growth remains robust driven by SSDs, smartphones and tablets.
CFO Ron Foster said the weaker yen caused $62 million of the losses. Micron president Mark Adams said the SSD business was doing well, with bit shipments up 20 per cent compared to the previous quarter - and:
"We're also nearing qualification of our next-generation enterprise SATA drive with major server and storage OEM customers and look for shipments in calendar year 2013."
He added:
On the NAND technology front, we are making steady technical advancements with both our planar and 3D NAND technologies. We began sampling our 20-nanometer TLC NAND flash, which selected controller companies, and we'll begin production in calendar Q1.
There was a slowdown in the ramp up of 20nm process flash due to the manufacturing issues, but that's sorted and 20nm flash should be the majority of Micron's production in three to six months. Some 80-85 per cent of Micron's flash was in the MLC category with the rest evenly split between SLC and TLC.
In the DRAM area Micron is waiting for Ultrathins and light notebooks and Windows 8 to drive demand higher. Server DRAM bit growth is strong; it being forecast to grow 40 per cent in 2013 compared to 2012. Foster said that "we also continue to see early traction for our RLDRAM 3 and Hybrid Memory Cube."
Micron doesn't see enough market demand to justify a TLC (3-bit per cell) SSD yet, certainly not in its OEM market, and is focussing on high-performance client SSD drives.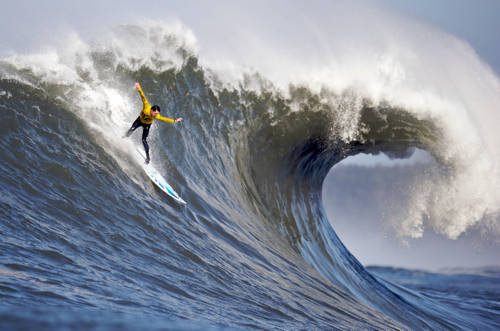 Micron as surfer
Basically Micron is fine-tuning cost out, hoping for an upturn, and looking to lower its costs with the Elpida capacity. The embuggerance is that SSD sales are sensitive to price - lower that and sales would soar, but lower the price and profits will fall. Micron is caught between the devil and the deep blue sea with NAND SSDs as it tries to catch the perfect point where its NAND and DRAM surfboards will ride the demand wave without a profits wipeout. But there's limited space on the wave crest, the wave isn't big enough yet, and other flash fab foundry surfers are jostling for the best spot too.
Is Micron management good enough to instil confidence that things will come good? Six quarters of losses say no as do sales revenue at the lowest point in almost three years. Micron's management say we can ride the wave, we can turn the ship around, we do know what we're doing. Stick with us; it will be worth it. ®