London and New York? Pfft... if you want buy low latency, move to BRAZIL
NetApp, Amazon unleash Private Storage for speed freaks... but it'll cost you
---
NetApp and Amazon have devised Private Storage for AWS with a NetApp array in a colocation facility with a Direct Connect link to AWS and data replicated to it from a customer's own NetApp array. When should NetApp customers go to the expense of doing this?
We're told by a person close to the situation that the rationale for NetApp Private Storage for Amazon Web Services is where the application running in the Amazon cloud needs less than 4ms latency when accessing the NetApp storage. A Direct Connect link from an AWS region colocation (colo) facility provides this.
Amazon has regions of the USA where such Direct Connect colos exist. Elsewhere network links can be set up to the Direct colos, for example from a NetApp customer's data centre, but overall network latency will increase with the distance from the Direct Connect colo.
As the table below shows, network performance from the regions is better than from remote edge locations outside the Amazon regions. We're told that, in summary, 4ms and less are ideal connections, meaning up to 160 miles or 257km with a clean path. The distance is that taken by the wire, not by line of sight.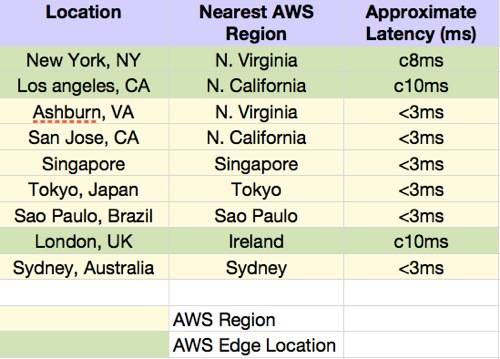 Amazon Region and Edge latency.
We understand that Amazon and NetApp have been working on this for a couple of years and it's not a defensive manoeuvre by Netapp so much as taking advantage of an opportunity to sell more product while helping customers get closer to compute services in Amazon's cloud. We further understand that EMC, HDS, and HP are all hustling now to put together a similar solution or promote their own AWS integration.
This system roadmap was set two years ago and will continue to evolve. If this first arrangement, Netapp Private Storage for AWS, is successful, we can expect more joint NetApp-Amazon initiatives and announcements. We could even see more news in six months with a big announcement at Amazon's next reInvent conference.
A channel player involved in the NetApp-AWS private storage deal says they are seeing "a ton of interest" and has signed a first deal.
Non-NetApp view
How other storage array suppliers might view the NeApp Amazon pairing starts from the view that there is no actual integration between the NetApp array and AWS and S3. If there were any then third-party software would be used. Clustered ONTAP fully supports Snapmirror, but mirroring from NetApp 7-mode to Clustered ONTAP is not supported. This provides openings for other suppliers to match the NetApp Amazon offering.
There are three main use cases:
Process data remotely via Amazon EC2 elastic compute and Amazon EMR elastic Map Reduce (Hadoop)
Off-premise disaster recovery
Move data to Amazon S3 for low-cost archiving
Other storage suppliers could offer similar facilities to satisfy these use cases because of the lack of Amazon-NetApp integration and NetApp array functionality limitations. For example, EMC and Rackspace could provide the same functionality using either VMAX, VNX or Isilon arrays. Dell, HDS, HP and IBM could dream up their own equivalent arrangements.
Of course, if the NetApp Private Storage for AWS is well-received by customers then NetApp, and Amazon, could move on and start integrating and extending the scope of the arrangement. Perhaps by focusing on NetApp's V-Series ability to virtualise third-party storage so that it appears to be ONTAP storage, with that third-party storage being Amazon S3 or a variant of it... FlexCloud, anybody? ®