Opposable thumbs for FISTS, not finesse, say bioboffins
Hands evolved to fight for sex, not to play Paganini
---
A pair of researchers at the University of Utah have published a paper arguing that our hands did not evolve merely so that our ancestors could perform delicate tasks, but also so that the males of the species could knock the crap out of one another in competition for mates.
"There are people who do not like this idea, but it is clear that compared with other mammals, great apes are a relatively aggressive group, with lots of fighting and violence, and that includes us," the paper's lead author, biology professor David Carrier told Science Daily. "We're the poster children for violence."
As Carrier and coauthor Michael Morgan write in "Protective buttressing of the human fist and the evolution of hominin hands", published in The Journal of Experimental Biology, "We propose that the derived proportions of hominin hands reflect, in part, sexual selection to improve fighting performance."
Compared with chimpanzees, we humans have stronger thumbs and shorter fingers and palms, which enables us to clench our fists and strengthen the resulting structure by folding our thumbs. Chimp fingers, on the other hand – no pun intended – form an open doughnut shape when curled, Carrier explained when announcing his research.
That research was sparked when he and fellow biomechanic Frank Fish discussed a paper Carrier had published which argued that whales could use their spermaceti organs as battering rams. "Frank didn't buy the argument," Carrier recalls, "and at one point he raised his fist and said, 'I can hit you in the face with this, but that is not what it evolved for'."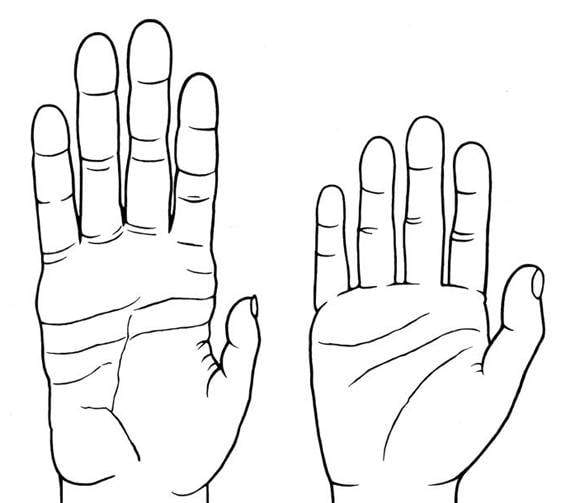 The structure of a chimpanzee's hand (left) is less well-adapted for punching than is man's (right)
(source: The Journal of Experimental Biology)
Carrier thought that Fish might be wrong, and decided to explore the offensive powers of the human hand. He and Morgan gathered a number of test punchers and slappers – "Fortunately, Michael had a lot of experience with martial arts and he knew people who were willing to serve as subjects," Carrier says – and had them deliver six types of blows, as hard as they could, to a punching bag that could measure the force of their strikes.
Surprisingly to Carrier and Morgan, all six types of aggression – overhead hammer fists and slaps, side punches and slaps, and forward punches and palm shoves – registered the same total amount of force. However, due to the fact that a straight-on punch concentrates that force into a smaller area, the amount of oomph delivered at the impact point with a clenched fist was 1.7 to three times greater than that of a slap.
"Because you have higher pressure when hitting with a fist, you are more likely to cause injury," Carrier says.
Carrier and Morgan then measured the ability of their subjects' clenched – or, as they say, "buttressed" – fist versus that of their hands with the fingers merely bent, not pressed aginst their palms and strengthened by that all-important thumb folded across them.
These tests showed that buttressing the fist resulted in a four-fold stiffening of the knuckle joint and a doubling of the ability of the fingers to transmit force, mainly due to the thumb helping hold them in place.
"Because the experiments show the proportions of the human hand provide a performance advantage when striking with a fist," Carrier says, "we suggest that the proportions of our hands resulted, in part, from selection to improve fighting performance."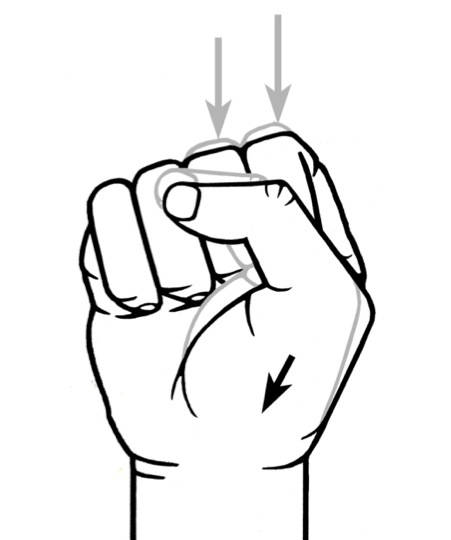 A pre-punch fist (grey) compresses only slightly (black) post-punch, with force being transmitted to the wrist
(source: The Journal of Experimental Biology)
Current evolutionary thinking, Carrier explains, is that when our ancestors dropped out of their arboreal homes and started walking upright on the ground, the hand evolved in order to better manipulate objects and to create and use tools.
"An alternative possible explanation," he says, "is that we stood up on two legs and evolved these hand proportions to beat each other."
And why did we want to beat each other? "Because the mating systems of great apes, including humans, are characterized by male–male competition, which can subject males to intense sexual selection on fighting performance," Carrier and Morgan write, "it is appropriate to question the role that this selection may have had on the evolution of the human hand." ®
Bootnote
Carrier's interest in punching and mating did not begin with his argument with Frank Fish. In May 2011 he published a paper describing research that compared the delivery of blows while hunched over on all fours to those delivered while standing, with results that he said "are consistent with the hypothesis that our ancestors adopted bipedal posture so that males would be better at beating and killing each other when competing for females."
Not only that, he said. "It also provides a functional explanation for why women find tall men attractive."