Red Hat ups cloud control freakage with $104m ManageIQ buy
Novadigm redux, and another solid quarter turned in
---
Red Hat is still mostly a commercial Linux distributor, but it is also a key application middleware supplier and is working on building out its server virtualization and clustered storage. But it wants to – like so many others – be the Red Hat of The Cloud, and despite appearances to the contrary in recent announcements, it does not yet have all of the tools that it needs to do for the cloud what it did for Linux.
Shadowman is keen on commercializing the OpenStack cloud control freak and building out a set of tools that turn it into a self-managing whirligig that reaches from developers cranking out code to the hybrid clouds that run that code. This includes, among other things, the OpenShift platform cloud and the CloudForms application deployment and hybrid cloud management tools.
Based on the fact that Red Hat today shelled out $104m in hard, cold cash to buy ManageIQ, a relatively obscure provider of virtualization and cloud management tools based in Mahwah, New Jersey, we can infer both that Shadowman wanted a better toolbox and that it wanted to keep ManageIQ from falling into enemy hands.
The people behind ManageIQ know their stuff. Oleg Barenboim, the company's CTO and co-founder, was lead architect at Novadigm, a systems management company with a utility computing bent that Hewlett-Packard acquired in February 2004.
Joseph Fitzgerald, the company's other co-founder, was CTO at Novadigm. Both spent years in HP and eventually decided to strike out on their own. For chief exec they tapped Albion Fitzgerald, who started out as an IBMer in 1966 building systems for financial firms down on Wall Street and who was also CEO at Novadigm.
ManageIQ was founded in 2006 and is a Novadigm redux for a cloudy world, rather than a physical one. El Reg contacted Red Hat in the wake of the announcement to find out how many customers are using ManageIQ's Enterprise Virtualization Management Suite and how many employees Red Hat would be taking on – and if the ManageIQ founders and CEO would be sticking around – but no word yet from Shadowman.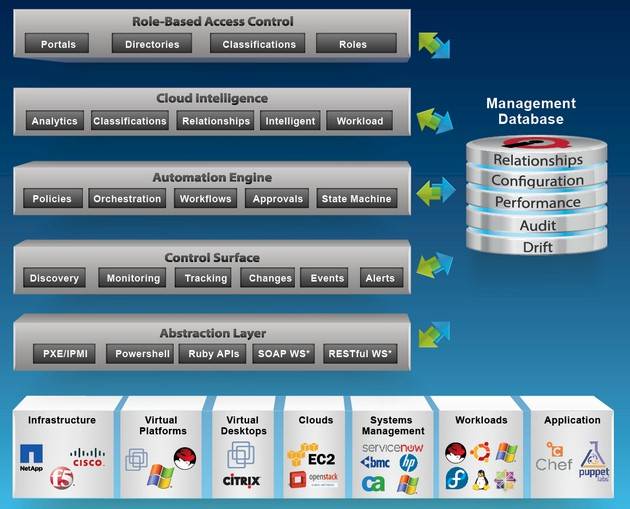 ManageIQ seems to do it all, which is why Red Hat needs it
In a conference call with Wall Street analysts to go over both the deal and the numbers for Red Hat's third quarter of fiscal 2013 ended in November, Red Hat CEO Jim Whitehurst said that the company was acquiring ManageIQ because its tools could do server and storage provisioning, chargeback on capacity used, virtual machine lifecycle management, and analytics on everything running across public, private, and hybrid clouds.
"It has proven itself in large-scale deployments," Whitehurst added, referring to ManageIQ's EVM tool – and it is not entirely clear that CloudForms, the hodge-podge of similar tools that Red Hat launched in June and just updated this month with a 1.1 release, has proven itself.
Red Hat is not talking about its ManageIQ-CloudForms product integration plans, but it looks like CloudForms will be used to broker and aggregate cloud capacity internally and externally, while ManageIQ EVM will be used to monitor and orchestrate jobs running on plain-old server virtualization, as well as full-on clouds. The fact that ManageIQ supports Microsoft Hyper-V, VMware ESXi, and Red Hat Enterprise Virtualization hypervisors, as well as the custom Xen hypervisor used by Amazon Web Services, certainly helps the Shadowman cause.
But that's a guess. All Whitehurst would say is that Red Hat will talk about its integration plans in a few weeks.
In the meantime, Red Hat did want to talk about the numbers it turned in for the November quarter. It certainly can afford to buy ManageIQ and quite a number of other companies, that's for sure.
In the quarter, revenues rose 18.5 per cent to $343.6m, but net income was down 9.1 per cent to $34.8m. Sales, research, development, and other costs are rising fast and this has eaten into profits. But this stands to reason, as Red Hat is trying to take on a number of new markets. The company has $1.3bn in cash and equivalents in the bank, plus another $987.7m in deferred revenues.
So $104m is pocket change, even if ManageIQ is privately held and we have no idea how much money it is making. As Whitehurst pointed out on the call, when it comes to hybrid clouds "we're in batting practice, we haven't even started the first inning."
In the quarter, Red Hat's support subscription revenues rose 19.3 per cent to $294.2m. Training and consulting services brought in $49.4m, up 13.6 per cent. About half comes from training and half from consulting, and Charlie Peters, Red Hat's CFO, said growth here was intentionally slower as it tries to get channel partners to do more of the consulting work.
All of the top 25 deals that were up for renewal in fiscal Q3 renewed, and they did so at a value of 120 per cent compared to the original value of the Red Hat contracts. Of the top 30 total deals (renewal or greenfield) that Red Hat did in the quarter, Peters said that all of them exceeded $1m for the first time. Five were in excess of $5m and one was in excess of $10m. Despite all of the layoffs in the financial services industry, banks, hedge funds, and insurance companies were well-represented among these top 30 deals, and public clouds drove three of them, too.
Of those 30 big deals, 20 per cent had a JBoss middleware component, and in the wider sales JBoss attach rates are even higher. JBoss continues to outgrow the overall Red Hat business, and Red Hat continues to not break it out as a separate item.
Looking ahead to the final quarter of the fiscal year, Red Hat says to expect revenues of between $347m and $350m, with non-GAAP earnings per share of between 29 and 30 cents. For the full year, expect sales of between $1.328bn and $1.331bn with non-GAAP EPS of $1.16 to $1.17. ®