Identify the missing word - win a prize!
While the Home Office has been battling to increase surveillance of the internet in Blighty to apparently fall in line with the likes of China, Iran and Kazakhstan, all of whom collect data on a national scale through Deep Packet Inspection probes, other parts of Whitehall have been meddling with the internet in entirely different ways.
This year the Cabinet Office killed off Directgov and replaced it with GOV.UK - a single domain website intended to make public services more accessible online. So far that project has - in design terms - moved from a 1970s bedsit in Crawley to a 2000s minimalist warehouse apartment in Shoreditch. And no, that's not a compliment.
About 8 million Brits remain largely oblivious to the online world. Many of those citizens come from poor backgrounds, are elderly or disabled. The government claims to be addressing what it has defined as a "digital divide" by effectively trying to force everyone online. The monthly broadband costs and the spare cash needed to buy a computer dropped off the agenda.
Instead, Cabinet Minister Francis Maude wants the government to make its public services "digital by default". This also, chillingly, means shifting many more government transactions completely into cloud computing systems.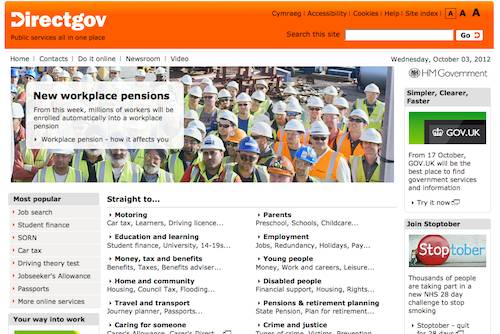 Men in hard hats on the now-dead Directgov website
Right now a Whitehall-backed identity-handling services market is being created for the private sector that will be tasked with processing the IDs of millions of taxpayers in Blighty. Maude sees it as a lucrative way to do business and the Department for Work and Pensions' Universal Credit scheme is the first to "benefit" from the programme. The Post Office and credit-check outfit Experian are among the providers who will build an ID registration system for the DWP.
Down the line, British citizens could access government services online by logging in via Facebook, for example. We exclusively reported this fact in the summer of 2011; the national press only recently cottoned on to these plans. What many failed to report, however, was that primary legislation - new laws - will almost certainly be required before the UK's ID market can fully blossom. In the meantime, ministers will continue to flirt with Silicon Valley types. For evidence one need only look east to a roundabout of startups in east London.