No, honestly boss, I was looking up 'analyse', not that
But the Amazon Lens squeezes itself into attempts to look for files on the desktop in front of the user, or on the local network, rather than web searches. Having Amazon shopping results come back when you're looking for a document or program on your desktop proved not only surprising, but next to useless - you're searching, say, for that holiday journal you kept in Russia two years ago, not Moleskine journals, diaries and bags on special offer.
The search results can even be, depending on your sensibilities, offensive.
Thanks to Unity's find-as-you-type feature, seemingly benign searches for words such as "analyze" and "assets" can bring up smutty Amazon video results for slow typists.
It got worse. As the EFF pointed out, your local search queries are sent to Amazon via Canonical's servers over a secure connection, but what Amazon sends back is not. That means, because images for suggested products are loaded directly from Amazon's servers rather than the in-between systems run by Canonical, Amazon has the ability to correlate search queries with your IP address.
Free-software firebrand Richard Stallman jumped into the fray by calling the Amazon Lens "spyware" and "surveillance code". Stallman went on to suggest that the free software community "tell people that Ubuntu is shunned for spying". Ubuntu's Jono Bacon called Stallman's tongue-lashing "childish" although the Ubuntu man later apologised and was unable to refute anything Stallman actually wrote. If the 300-plus comments on Bacon's blog post prove anything it is that - for once - the vast, vast majority of Linux users appear to agree with Stallman.
So why go out on a limb to turn on a feature that's largely useless, potentially offensive, may violate user privacy and is insecure to boot? Critics said Canonical is desperate for revenue. Shuttleworth said he just wants to make Unity more useful. Either way, despite the backlash and public criticisms over privacy, Canonical did not back down. Ubuntu 12.10 shipped with the Amazon Lens enabled by default but offered a kill switch.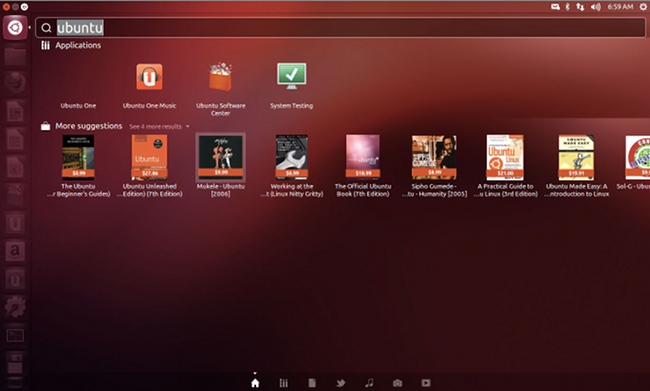 Ubuntu's Amazon lens: a marriage of your desktop and the web bazaar's Jeff Bezos
In other words, it's our way or the highway. Again.
Of course while GNOME and Ubuntu may be turning a deaf ear to the community and forging off on their own separate paths, one Linux distro seems to be gaining converts: Mint Linux.
Not only does the Mint team listen to its users, it's solving real problems and offers two alternatives to the GNOME Shell: the temporary fix that is the MATE desktop and the longer-term alternative Cinnamon.
MATE, originally forked from GNOME 2 by an Arch Linux developer, is for anyone who wants to stick with the familiar GNOME 2 desktop. Cinnamon, on the other hand, takes GNOME 3's guts, rips out the GNOME Shell and replaces it with a user interface for those who prefer to "get things done", as Team Mint puts it. Cinnamon isn't perfect. In fact it can be quite buggy at times, but at least it's heading in a direction roughly opposite to GNOME and Unity.
Both of the Mint-sponsored desktops have proved popular enough that they're now part of Fedora's default repositories as well. Ubuntu, once the darling of desktop Linux and the overwhelmingly popular choice for newcomers, may soon lose that role to Mint.
Maybe 2012 will be the year we look back upon as the beginning of a changing of the guard among the Linux distros. ®
Sponsored: How to simplify data protection on Amazon Web Services