Thunderbolt interface strikes YOUR PC: What's the damage?
10Gbps, you say? Now for the reality check
---
Thunderbolt has been available on Intel-based motherboards for around six months and although Apple has featured it on its computers since 2011, peripherals with this interface have appeared at a glacial pace. But the ice appears to be melting now. Besides a range of hubs and adapters that take advantage of Thunderbolt's versatility, more and more storage devices now feature the interface. So what's it like on a PC and how does the touted 10Gbps speed really measure up against the more commonly found data transfer protocols?
First, a quick recap on what this technology is all about. Thunderbolt, or to give it its old code name, Light Peak, was first aired at Intel's Developer Forum (IDF) in 2009. Originally, it was designed around optical fibre, but a copper-wired version that Intel was working on allowed the company to lower its costs and has been first to materialise in the wild. This incarnation also has the added benefit of being able to deliver up to 10W of power through the copper cable, sufficient for host powering of external devices.

Data and display
Thunderbolt supports data and display connections (PCI-Express and DisplayPort) concurrently over a single cable and offers 10Gbps of full duplex bandwidth per channel using the mini DisplayPort interface. Since it utilises the existing PCI-E and DisplayPort protocols there is no need for additional drivers to enable a ThunderBolt connection. The data and DisplayPort signals are fed separately into the Thunderbolt controller where they are multiplexed, and at the other end of the Thunderbolt cable the signal is separated out again.
At present, the cable length limit for an active electrical-only cable is 3 metres, and at the time of writing only StarTech offers a 3m cable. However, an active optical cable offers support running up to 20 metres.
Incidentally, the other advantage over alternative high speed external connections is the capacity to daisy-chain up to six Thunderbolt equipped devices including one or two DisplayPort v1.1a monitors. The product at the end of the chain can be, by the use of adaptors, a non-Thunderbolt device such as an eSATA or FireWire external drive. Indeed, Apple's own Thunderbolt monitor features an interface hub on the back panel with USB 2.0, FireWire 800, Gigagit Ethernet and, of course, Thunderbolt for daisy-chaining.
A while back I tried out a Thunderbolt external drive but it didn't impress me very much as it used a standard 5,400RPM mechanical drive – hardly a speed demon. Elgato's take is much more in keeping with the capabilities of this technology, as the company makes an external Thunderbolt drive that utilises an SSD. This offers a promising start to base comparisons on with the other external interfaces that we know and love/hate. Indeed, I found an exact same bare SanDisk Ultra 120GB (even down to the same firmware used by the Elgato) lurking at the back of the test bench that I could plumb in to test other interface options.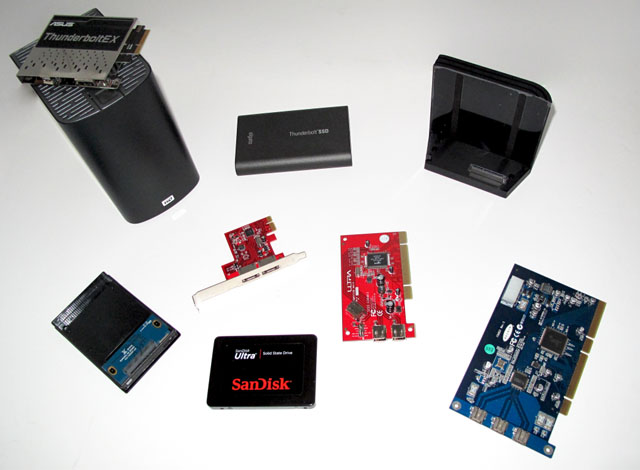 All kinds of everything
So after much rummaging around in the toy box, out came a Belkin FireWire 800 card, an old Ultra FireWire 400 card, a Startech USB3.0 enclosure and 6Gb/s eSATA card. A doctored Verbatim Freecom 35296 Quattro external drive allowed the SSD drive access to eSATA, USB2.0, FireWire 400 and 800 ports, and just for good measure I also used a WD 750GB Scorpio Black 6Gb/s and a SanDisk Extreme 120 SSD drive on the motherboard's 6Gb/s ports for comparison as well. I used two Asus motherboards for testing; the P8X77-V Premium and the P8Z77-V Pro.
Why two motherboards? Well, the P8X77-V Premium – which comes with on-board Thunderbolt – doesn't have any PCI slots. The two FireWire cards I was using are PCI-based (no doubt a great many PCs are configured this way too) which is why I also used the P8Z77-V Pro, as this mobo also supports Thunderbolt but by using Asus's ThunderboltEX add-in card. Incidentally, I checked out the Elgato drive on both the on-board and add-in card and found no difference in performance.