This article is more than 1 year old
Exploding stars drive Galactic geysers
Fortunate Earth isn't in the firing line
The truly enormous jets of matter flung out from the centre of the Milky Way galaxy are not, as previously believed, the detritus of a supermassive black hole. Rather, the "galactic geysers" are caused by stars forming and exploding at the centre of the galaxy.
The new study combined observations from NASA in 2010 with a survey by Australia's 64-meter Parkes radio telescope. Among other things, the research found that the outpouring is as much as a million times the energy of an exploding star.
The outflows reach 50,000 light years out from the galactic plane, and the scientists estimate the speed of the outflow at 1,000 kilometers per second.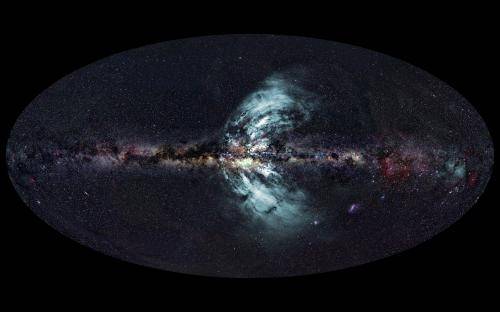 Composite image showing the "galactic geysers" (blue).
Image composition, Eli Bressert, CSIRO.
The story begins with space-based observations of gamma rays from NASA's Fermi space telescope, dubbed the "Fermi Bubbles", as well as the detection of a microwave haze by the WMAP and Planck space telescopes.
Examining the same regions with the Parkes instrument, the new study identified "two giant, linearly polarized radio lobes, containing three ridge-like structures, emanating from the galactic centre", the scientists write in Nature (abstract here).
The structure indicates that rather than emanating from the supermassive black hole in the middle of the Milky Way, the lobes are driven by "star-power" – and the magnetic energy involved is huge, at 1055 ergs.
Those magnetic fields also revealed the source of the outflows, according to Dr Ronald Crocker, who divides his time between the Australian National University and the Max Planck Institute in Heidelberg.
According to another team member, Dr Marijke Haverkorn of the Netherlands' Radboud University Nijmegen, the outflow "is carrying off not just gas and high-energy electrons, but strong magnetic fields. We suspect this may play a big part in generating the Galaxy's overall magnetic field."
You wouldn't want to live anywhere near the outflows, which fortunately for us don't point anywhere near the solar system. Dr Wiebke Ebeling of Australia's Centre of Excellence for All-Sky Astrophysics told The Australian that even at our distance – 30,000 light years from the centre – the fields would be so strong that "every single atom in your body would start vibrating and generating such heat you'd melt in an instant."
The CSIRO has a media release here. ®