Traffic app Waze 'turned down Apple's $400m, wants $750m' - report
Maybe THIS will fix Maps
---
After asking users to fix it, its own retail staff to fix it, and finally deciding to fix it in-house, Apple is looking to buy its way into maps dominance and is rumoured to be sniffing around Waze, a Israeli maps company that specialises in car journeys and live traffic information.
Apple has offered $400m for the start-up whose yearly revenue is $1m, Techcrunch claims, quoting an unnamed source. According to the report, Waze has turned this down and is asking for $750m. Neither company had confirmed at the time of publication.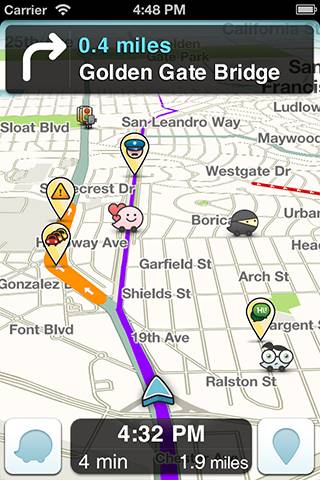 Waze, the social driving maps app that has caught Apple's eye
It is thought to be the live traffic information that has grabbed Apple's attention. Users don't need to actively upload data to contribute to Waze's traffic information service, simply driving along with the app open sends off data about traffic speeds and jam locations.
Waze also incorporates funky social location facilities in its Android and iOS apps, allowing you to see where your friends are driving, share gas (petrol) prices and chat to drivers nearby. Waze uses game rewards such as "treasure chests" to incentivise users to check the maps and also fill in details where mapping information is incomplete.
Often considered a rival to Foursquare, Waze focuses more on traffic and less on coffee shops. Last year Waze introduced Foursquare-style Waze adverts, which offer local businesses a way to advertise to users nearby.
Based in Paolo Alto, Waze was founded by graduates of Tel Aviv University in 2006 out of frustration that GPS systems did not incorporate live information. ®