Facebook continues to CONQUER THE WORLD
Social-networking domino theory crushes global competition
---
Facebook continues to extend its global social-networking hegemony, having established itself as the most-used such service in the vast majority of countries surveyed in a recent study.
"Facebook with 1 billion active users has established its leadership position in 127 out of 137 countries analyzed," blogged Italian researcher Vincenzo Cosenza when releasing his most recent World Map of Social Networks.
The Reg rushes to note that Cosenza's most-recent report uses traffic data from Alexa, perhaps not the most unflinchingly accurate global traffic monitor, but one which – all things considered – does report relatively accurate comparative data, site-to-site.
Previous to his most recent WMoSN, Cosenza used data from Google Trends for Websites, but that source was shut down in September of last year.
In any case, Cosenza's latest map shows that Facebook has vaquished almost all competition, and is now slurping up more social-networking traffic than all but a few sites in all but a few countries.
In Russia, В Контакте (V Kontakte, or In Touch) is the most popular social-networking site, with its main competitor Одноклассники (Odnoklassniki, or Classmates) now falling behind, holding onto most-popular status in just a western sliver of the former Soviet Union.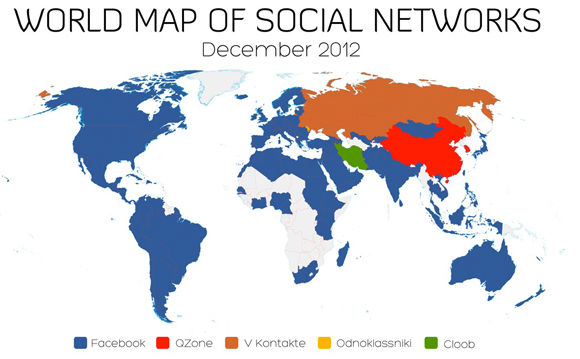 The map's Facebook blue, the competitors are few (click to enlarge – credit: Vincenzo Cosenza vincos.it
The two other holdouts to total Facebook hegemony are countries that carefully control their citizens' interent access: China, where QQ空间 (QZone) remains number one, and Iran, where social-networkers have to make do with کلوب (Cloob, or Club).
Perhaps most interesting in Cosenza's latest study is how many fewer countries now have most-active sites other than Facebook when compared with the same study done in December 2009, and how many social-networking sites have slipped from countries' number-one positions.
Even Brazil, where the relatively freewheeling, Google-owned Orkut social-networking site as recently as June 2011, according to Cosenza, has now fallen behind Facebook. Orkut's other outpost, India, slipped into Facebook's camp between June and December 2009.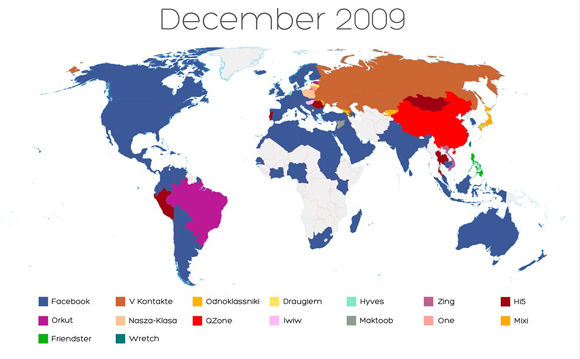 Just three years ago, social-networking competition was more vigorous (click to enlarge – credit: Vincenzo Cosenza vincos.it)
We take Cosenza's maps to be descriptive of trends rather than gospel truth – but even as such, they indicate that whatever Facebook fatigue users in some countries may be beginning to experience, Zuck & Co are still expanding their reach.
That said, we don't see Facebook breaking big in Russia, China, or Iran anytime soon. ®