This article is more than 1 year old
FTC clears Google in anticompetitive probe
No search bias found and FRAND patents for all
The US Federal Trade Commission (FTC) has announced that it is ending all investigations into Google, clearing the search giant of bias in its results and doing a deal that will see key mobile patents licensed out to the rest of the industry.
"The changes Google has agreed to make will ensure that consumers continue to reap the benefits of competition in the online marketplace and in the market for innovative wireless devices they enjoy," said FTC Chairman Jon Leibowitz at a press conference on Thursday.
"This was an incredibly thorough and careful investigation by the Commission," Leibowitz continued, "and the outcome is a strong and enforceable set of agreements."
The five commissioners voted unanimously to end its search bias investigation, saying that while some areas of Google's results had looked questionable, the FTC was satisfied that they weren't anticompetitive or aimed at squeezing out other companies or search providers.
Leibowitz said that no one had formally complained about search bias, and that Google isn't doing anything on this front that other search engine provers aren't.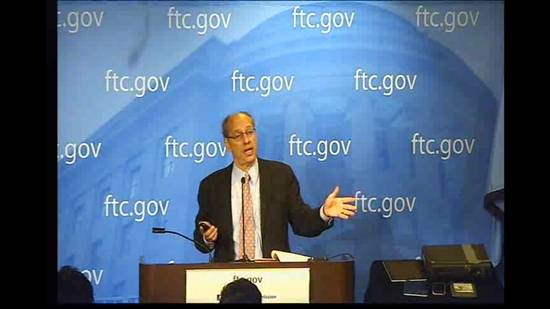 Leibowitz announces big win for Google
"Undoubtedly, Google took aggressive actions to gain advantage over rival search providers," said Beth Wilkinson, outside counsel to the FTC, in a statement."However, the FTC's mission is to protect competition, and not individual competitors. The evidence did not demonstrate that Google's actions in this area stifled competition in violation of US law."
Google has also agreed to share API data to make it easier for companies to advertise on multiple search platforms without it harming their rankings in general search, and to let companies opt out of having their data included in Google's other properties like Local and Shopping. Google will also stop scraping data from other sites and adding it to its search results after three commissioners expressed "strong concerns" over the practice.
On the issue of patents, the FTC said it had reached an agreement with Google over the use of mobile patents, and also on ongoing litigation against competitors over that intellectual property. Google acquired the patents and legal cases with the purchase of Motorola Mobility, but has continued to fight in court with competitors.
Google will now license the patents under so-called "fair, reasonable and non-discriminatory" (FRAND) terms to competitors, and cease using them in either patent litigation or in attempts to get the ITC to block rival products from being sold in the US.
"We've always accepted that with success comes regulatory scrutiny," said David Drummond, Google's chief legal officer in a blog post. "But we're pleased that the FTC and the other authorities that have looked at Google's business practices have concluded that we should be free to combine direct answers with web results. So we head into 2013 excited about our ability to innovate for the benefit of users everywhere."
So after 19 months of investigations, nine million submitted documents, and numerous sworn interviews from the heads of Google and its competitors, what has changed? Very little, as it turns out.
Within 90 days, companies will be able to opt out of adding their data to Google's vertical search tools, API sharing is going to make it easier to manage online advertising campaigns, and the Chocolate Factory will have to send the FTC a report every 60 days outlining its moves to comply with the settlement.
The best result out of the investigation – for the mobile industry at least – is the FRAND terms of patent licensing Google will have to apply to Motorola patents. It's clear the $12.5bn Google paid for Motorola won't be reaping much in the way of licensing revenue, but the ending of legal actions over them will save Google some money and the IP will still be handy to defend other patent cases.
But other than that, it's business as usual for the search giant. Leibowitz said that he had been in contact with European authorities that are also investigating Google over similar matters, but in terms of US law the company is in the clear.
"Some may believe that the commission could have done more, perhaps because they are locked in hand-to-hand combat with Google," Leibowitz said. "Some believe we should have done less. But we follow the facts where they lead with appropriate vigor." ®