iPhone 'Do Not Disturb' bug to self-destruct on Monday
Bug surfaces just as Apple trumpets feature in new Venus 'n' Serena ad
---
Users of Apple's iPhone will have to wait until Monday for its latest bug to fix itself.
On January 1, iOS 6's Do Not Disturb feature, which allows users to choose time periods during which they don't want to receive calls and to limit calls that do come through to members of selected groups, decided that it no longer wanted to obey users' wishes.
Instead, it refused to reset itself to a call-receiving state after the time period scheduled by the user, thus keeping the iPhone in the Do Not Disturb state, unbeknownst to the user.
This bug was noticed by The Guardian, among many others, and hopes that it might right itself after January 1 proved unfounded.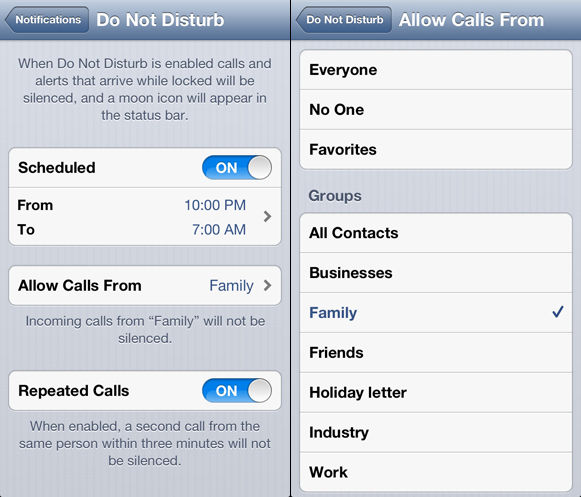 Do Not Disturb – when it works – allows you to schedule the period it's in force (left) and those folks allowed to override it
On Wednesday, however, Apple released a terse support document admitting that the bug did, indeed, exist, and said that a fix would be forthcoming. "Do Not Disturb scheduling feature will resume normal functionality after January 7, 2013," the doc reads. "Before this date, you should manually turn the Do Not Disturb feature on or off."
Ironically, the Do Not Disturb bug surfaced just as Apple released a new ad touting that very feature. In the 30-second spot, an iPhone 5 user dreams he is trouncing both Serana and Venus Williams in table tennis, secure in the fact that his phone won't wake him, seeing as how he has scheduled Do Not Disturb.
Well, it turns out that until next Monday, when the Do Not Disturb bug is scheduled to self-repair, neither will he be awakened from any dream after the time for which he set that feature to reset, unless he turns the call-blocking feature off himself.
While a minor feature such as Do Not Disturb being dysfunctional for a week is nowhere near as embarassing to Apple's software folks as the howler that was – and is, for that matter – the replacement of iOS's Google-supplied Maps app with Apple's own navigational cock-up, it is another bit of egg tossed onto the face of Apple's cherished, carefully cultivated "It Just Works" reputation. ®