This article is more than 1 year old
Anonymous turns private eye in Ohio rape case
Releases purloined data after hacking attack
A hacking attack by self-proclaimed members of Anonymous has uncovered highly disturbing data relating to a rape case in Steubenville, Ohio, that has garnered national attention.
In August a 16-year-old girl was allegedly assaulted at a series of parties in the Ohio town. Numerous pictures, tweets, and videos were broadcast of the incident, including a picture of two men carrying the unconscious girl between them. Two junior members of the popular local Big Red football team had been charged with rape and kidnapping, although the latter charge has since been dropped for the two.
The case garnered little attention until Alexandria Goddard, a crime blogger who came from Steubenville, started investigating the case based on the evidence on social media. Many people at the party commented online about the incident, including allegations that the girl had been raped multiple times and urinated on.
"What normal person would even consider that posting the brutal rape of a young girl is something that should be shared with their peers?" she wrote. "Do they think because they are Big Red players that the rules don't apply to them?"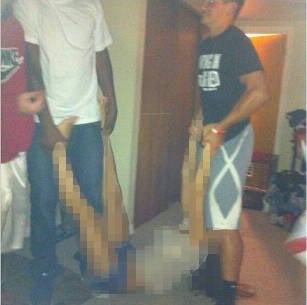 One of many piece of online evidence
A few days after the alleged incident police moved to seize 15 phones and two iPads, but they told The New York Times that the evidence had largely been deleted. But after the case gained national prominence, a group of hackers dubbing themselves KnightSec took over the main fan site for the football team and posted a message warning those involved to turn themselves in or face consequences.
After the New Year the group revealed that in addition to hacking the Big Red fan site they had also downloaded the emails of the site's operator, and made the archive available for download on the Local Leaks website. More disturbingly, they released a 12-minute video of local athlete and now Ohio State college student identified as Michael Colin Nodianos joking about the incident he claims to have witnessed.
"They raped her quicker than Mike Tyson raped that one girl," he said, before dissolving into giggles.
The site also makes a series of fantastic claims about those involved in the case, notably local sheriff Fred Abdalla, head football coach Reno Saccoccia, and local prosecuting attorney Jane Hanlin. It alleges that the police and football team collude in sports betting, drug distribution, and other serious offenses.
Whatever the facts of the case, it seems extraordinary that social media firms can't be enlisted to help sort out fact from fiction. Images and messages have been deleted, but backups are most likely held somewhere. Given the serious nature of the claimed offenses, the police should be given every opportunity to go through them. ®