William Shatner – aka Captain James Tiberius Kirk (also the porky lawyer from Boston Legal, depending on your age) – has been communicating with a Canadian astronaut stationed on the International Space Station.
Chris Hadfield, currently on board the ISS as a flight engineer and due to take over as mission commander after the current crew leaves in March, got a tweet from Shatner asking "@Cmdr_Hadfield Are you tweeting from space? MBB." (MBB stands for "My best, Bill", in case you're wondering.)
Hadfield's reply shows a more than casual interest in the tales of a younger Kirk and his fictional exploits across the universe:
@williamshatner Yes, Standard Orbit, Captain. And we're detecting signs of life on the surface.

— Chris Hadfield (@Cmdr_Hadfield) January 3, 2013
The exchange led to an invitation for Shatner to revisit the land of his birth and chat directly with Hadfield at the Canadian Space Agency, which had the portly performer checking his schedule to see if he could make the trip.
Hadfield showed further Trek knowledge with another tweet on the topic, this time risking life and limb by wearing the infamous red shirt that is the traditional sign of a pointless death on the science fiction series.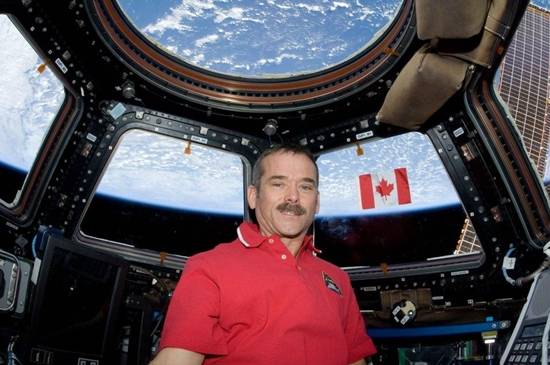 Hadfield tempts fate
While tweeting astronauts are nothing new (the first occurrence was nearly three years ago), this was a wonderful example of how the social media world can bring people together and provide a chuckle for the rest of us.
Hadfield has also become the first astronaut to compose and record a song while on the ISS. On his trip out of the gravity well he brought along his faithful guitar and recorded "Jewel in the Night" about the view from space. He reports that playing in space is actually an improvement, since the strings aren't damped by gravity and the guitar can resonate longer. ®
Bootnote
Before the Trekker fanboiz and gurlz get their jumpsuits in a twist, we are well aware here at Vulture Annex that the words "It's life Jim, but not as we know it," were never uttered during that show's run.
However, as a Briton who lived through the horrible (musically at least) summer of 1987, I share the scars of a nation that saw Star Trekking by the Firm spend two agonizing weeks at the top of the music charts. Ever since, the song's tagline has been burned into the nation's collective memories.