AWS puts sysadmins on call everywhere, all the time
Android app lets you measure cloudy bulges in your pocket
---
Amazon Web Services has built an app capable of driving its cloudy services from an Android device.
The Amazon team has clearly ordered every volume of poetry on offer in the company's online bookstore to come up with the app's name: "The Amazon Web Services (AWS) Management Console for Android".
For now, the app can tackle the following tasks:
"View a summary of your Amazon Elastic Compute Cloud (EC2) instances, Amazon CloudWatch alarms, total service charges, and AWS Service Health status.
Filter and search for EC2 instances and CloudWatch alarms.
View EC2 instance metrics and status checks that show the state of your environment.
Stop or reboot your EC2 instances.
List CloudWatch alarms by status and time.
View CloudWatch graphs to instantly gauge the health of your resources and identify trends for key indicators.
See what automated actions are configured for each alarm setting.
Jump from a CloudWatch alarm to the affected EC2 instance for additional metrics.
View detailed AWS service health status, including recent AWS service events and notifications.
Change regions to view your resources world-wide.
Switch users to see resources in multiple accounts."
Interestingly, AWS advises against using the mobile device on which you wield the app as the device you use for multi-factor authentication. If you use that method of logging in, the cloudy concern counsels you to obtain "a separate mobile device for the greatest level of account protection."
That instruction leaves sysadmins with servers running in the Realm of Bezos facing the wonderful prospect of carrying two Android devices (or one Android device and a hard token) at all times, so they can enjoy all the anxiety that will surely come with the chance to check on the status of cloud servers said to be so reliable you don't really need to worry about administering them anyway.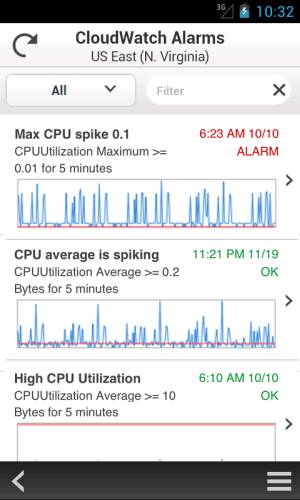 Oh joy: now you can watch your cloud on your mobe
To be fair, the chance to access the console from a tablet does seem a useful use case around the office.
But users confronted with a problem will still need to head to a proper PC if their cloudy kit is in trouble. Other potentially useful functions for use on the go – such as the ability to quickly fire up additional instances in the event of a traffic spike – are currently missing from the app. AWS plans more features in the future.
Feel free to use the comments to let us know if you're keen to put a cloud management tool in your pocket, or to let us know the boss's hands have no place whatsoever in your trousers. ®