CES 2013 Not content with squeezing out foreign rivals in their domestic market, China's homegrown smartphone giants are set to make a splash overseas this month with some impressive handset designs including the world's thinnest smartphone and a giant 6.1in phone/tablet hybrid.
Leading the charge at this week's annual gadget-fest CES in Las Vegas are Shenzhen neighbours ZTE and Huawei.
The two had a pretty torrid 2012 at the hands of US politicians, who branded their telecoms kit businesses a national security risk, so they'll be looking to the world's biggest consumer electronics show to boost brand awareness and highlight their innovation efforts in the mobile space.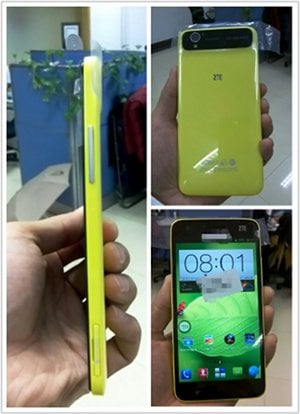 ZTE's Grand S
ZTE confirmed to The Reg that it will be taking the wraps off the Grand S, an FHD 5in smartphone which, at just 6.9mm, is being touted as the world's thinnest.
The 1920x1080 resolution device will pack a quadcore CPU, 2GB of RAM and a 13 megapixel camera, with support for 3G and LTE.
Local rival Huawei is also set to make a splash at CES with a giant 6.1in 'phablet' dubbed the Ascend Mate.
The firm couldn't immediately be reached to confirm the specs but Huawei Device chairman, Richard Yu, has already been caught on camera last week showing it off to fans in Guangzhou.
The 6-in monster will trump the well-received Galaxy Note 2 in terms of screen size, but time will tell whether the pocket-splitter is also a hit with users.
Not to be outdone, Chinese smartphone maker Oppo announced last week that its 5-inch offering, the Find 5, will soon be made available in 18 countries outside the People's Republic including the UK, US, Australia and New Zealand.
The quad-core, 1080p device also features a 13-megapixel camera and is set to come in 16GB and 32GB flavours, retailing in the US at $499 and $569 respectively.
China's handset makers have built this push into overseas markets on strong performance at home, where they've traditionally dominated in the low-to-mid range smartphone space and the 2G feature phone market.
The coming year is likely to see global brands increasingly pressured in the world's biggest smartphone market, with Lenovo set to leapfrog Samsung to take number one spot in China by shipments, according to Gartner.
Chinese brands also captured more than 70 per cent of domestic sales of 2G feature phones and 3G smartphones at the end of November, with local firms Lenovo, Coolpad, Huawei and ZTE all breathing down market leader Samsung's neck, according to market watcher Sino-Mr (via MIC Gadget). ®