Brazilian slammer guards nab mobe-smuggling CAT
Feline mule also packing saw blades and drill bits
---
Brazilian prison wardens admit they have little chance of discovering who was behind a cunning plan to smuggle a mobile phone into the slammer in Arapiraca, south west of Recife, given that the mule is highly unlikely to talk.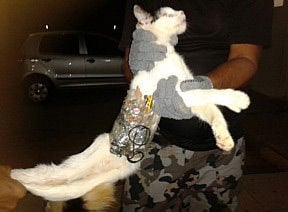 Guards at the Presídio Desembargador Luiz de Oliveira Souza nabbed a cat attempting to walk through the main gate of the medium-security facility, and found it had a mobe, headphones, memory card, saw blades and drill bits taped to its body.
The powers-that-be at the jail said this was the first time an animal had been used to transport contraband, and quite which of the 263 inmates was the intended recipient remains a mystery. A prison spokesperson said: "It'll be tough to find out who's responsible for the attempt since the cat doesn't speak."
Cat lovers will be relieved to learn the feline was taken to a nearby animal treatment centre for some veterinary TLC, according to O Estado de S.Paulo. ®