Brit disk biz Nexsan out of the frying pan and into the firing line
Why it needs to bring home the bacon for Imation
Blocks and Files Imation's purchase of Nexsan for $120m will be seen as a failed exit for Nexsan's venture capital backers in the eyes of the most ferocious investors.
Nexsan is in the second tier of disk drive array storage vendors, and has found it hard to progress into the top tier. It has failed twice at launching a successful IPO since it was founded in 1999 in Derby, UK. We calculate it's wolfed down…
2003: $11m in seed capital
Dec 2003: $17m in an A-round
April 2007: $7.5m in a B-round
That's a total of $35.5m, meaning the venture capital backers got a 3.4 multiplier of a return on the $120m Imation purchase price. As $15m of that was in Imation shares, the cash return represents a multiplier of 2.95 for the VCs. In the good times 5 multipliers were possible, so a 3.0 return is relatively piss-poor.
The alternative wasn't particularly brilliant either: the storage startup buzz is in all-flash arrays and cloud storage. Nexsan is not in those areas. It is a traditional disk array vendor that's added flash to its boxes and has object storage technology in its Assureon product line. There are no good IPO prospects here. It's too late.
Imation isn't buying a hot and wild startup. It's got its hands on a mature 13-year-old company with more than 11,000 customers worldwide and in excess of 33,000 systems installed. It has bought its way into the small and medium business (SMB) storage array market and knows nothing about that business in general.
Nexsan's people are staying with the business and, we expect, the main execs have have golden handcuff contracts to stay on. Nexsan's fiscal 2011 revenues were $82m whereas Imation took $1.3bn but made a loss of $43m. We have no word on Nexsan's profitability.
Here is what we understand is Nexsan's revenue history:
2006: $5m loss on $42.8m in sales
2007: $3m net loss on $49.8m in sales
2009: $63m in sales
2011: $82m in sales
In its acquisition announcement, Imation said Nexsan has strong gross margins and that its sales are growing. Lord only knows Imation needs a growth business. Its recent financial history is wobbly and its attempts to buy in technology to boost its gutted tape media and optical disk businesses have been small-scale and not delivered any substantial boost to its revenues or prospects.
The chart below shows it last made a profit in the last fiscal 2009 quarter.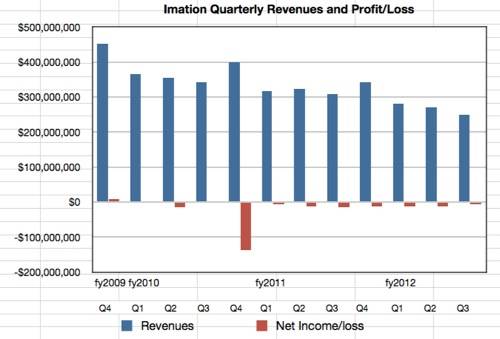 Imation's quarterly revenue and profit and loss history. Spot the last profit.
Buying Nexsan is a gamble for Imation: screw this up and it's possible Imation's management won't just walk - they'll be booted out by frustrated investors. Loss-making Imation isn't Nexsan's sugar-daddy. The El Reg storage desk thinks Nexsan has convinced Imation it will be profitable in 2013 and has a product roadmap that will increase sales further. Some of Imation's own distribution channel can take the Nexsan kit and Nexsan's sales partners may be able to take Imation's removable RDX disk storage products and also its security stuff.
Happy new year, Nexsan execs; you've got the VCs off your backs, but now you report to Imation CEO Mark Lucas and he really needs profits. ®