Nvidia takes fight to Sony, Nintendo with Android handheld console
Will the green Shield get stamped?
---
CES 2013 Nvidia's Project Shield seems positively daft at first thought. Who in their right mind would launch a new handheld gaming device today? If Sony and Nintendo can't win over the millions of folk who play games on phones and tablets with their dedicated gaming handhelds - and very strong gaming brands - how the heck can a manufacturer of graphics chips?
However, Shield has a neat trick up its sleeve that suggests Nvidia may not have lost the plot entirely.
It's easy to look at the clamshell Shield - it looks like a tiny laptop comprised of a screen clipped onto an Xbox controller - and draw immediate and not very flattering comparisons with the PlayStation Vita and the Nintendo 3DS. It's big, angular and, compared to a smartphone or 7-inch tablet, a bit clunky.
Nvidia CEO Jen-Hsun Huang, while showing off the gadget at a pre-CES 2013 announcement event, admitted that the design isn't final and could yet change, but as it stands Shield looks like the kind of handheld someone might have come up with 10 or 15 years ago.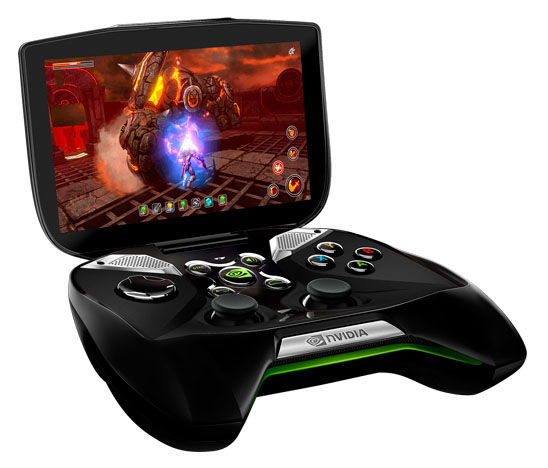 That said, the specs aren't retro. There's a quad-core Tegra 4 chip incorporating a "custom 72-core GeForce GPU" and quad-core ARM Cortex-A15 CPU; enough battery power for "five to ten hours" of gameplay; Wi-Fi; Android Jelly Bean; MicroSD storage; a 5-inch 294ppi 1280 x 720 display; a "bass reflex, tuned port audio system with twice the low-frequency output of high-end laptops"; and HDMI output.
It's essentially a modern tablet spec wrapped in a new casing.
Still, it's hard to imagine gamers playing with it on their way into work on the Tube, even if they can play "any game on Google Play" and others that Nvidia will make available on its TegraZone site.
But it's in the home where Shield may win friends and influence people. There's the HDMI output, which, we assume, means you can play games on your TV, thus combining console and controller into one, though only wireless HDMI will give the player true freedom from a long cable stretching out to his or her telly.
More importantly, Shield will be able to access a networked PC's Steam library, taking control of the computer to running titles on the big box while it acts as a remote display and controller over an "ultra-low latency" wireless link. That's handy, perhaps, if you want a quick play session and you don't want to sit in front of your monitor.
But there's the problem: any gamer keen enough to want Steam compatibility - of sorts - is surely going to be far happier firing up their computer and playing in front of a decent sized screen, whether it's a monitor or a connected TV with Steam in Big Picture mode?
Valve has its own hardware in the pipeline, and then there's the Ouya Android console too, though neither will be able to let you play games on the move, at least so far as we know today.
Huang said Shield could go on sale in as short a time as a few months hence, but the device demonstrated is still just a prototype. Of course Nvidia isn't saying anything about how much the thing will cost - or how many it expects to sell. ®