CES 2013 It sounds so promising: a "revolutionary paper tablet computer" that will completely change "the way people work with tablets and computers". Alas, the PaperTab, a concept device lauded today by "printed electronics" firm Plastic Logic, isn't quite the gadget the company is pitching it as.
PaperTab was created at Queen's University in Ontario, Canada, using a 10.7-inch flexible e-ink touchscreen display supplied by Plastic Logic and powered by an Intel Core i5-based box tucked, we presume, out of sight under the desk in this YouTube video:
The giveaway is the mass of ribbon cables required to keep these screens powered, fed with picture data, and to send users' taps and swipes back to the host computer. So each PaperTab is no more a computer or tablet in its own right than it is actually made of paper. No, what we have here is really just a monitor, albeit a thin, light and bendy one. And greyscale, to boot.
Indeed, there's not much here, from a usage model standpoint, that we haven't seen before. So, "instead of using several apps or windows on a single display, users have ten or more interactive displays or 'papertabs': one per app in use," said Queen's University's MediaLab website, which bizarrely has an ee cummings-esque disdain for capital letters.
Lots of folk with more than one screen hooked up to their computer already work on a one-window-per-screen basis and have done for years. It's hardly the "disruptive user experience", one Intel research scientist the site quoted suggests it is.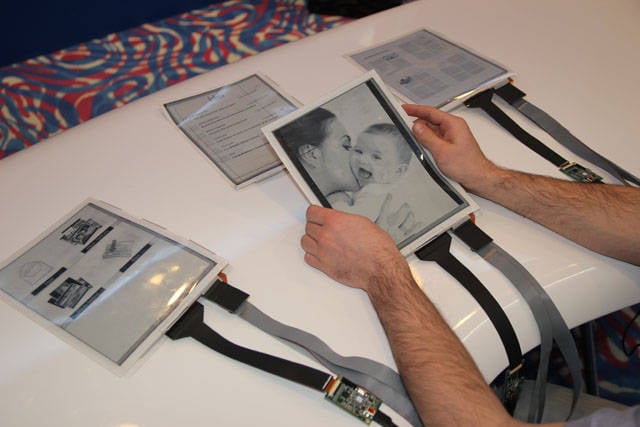 Get rid of the cables, please
Indeed, the notion of shuffling papers around a desk is as old as the concept of the office - and, ironically, the very mode the first computer GUIs attempted to emulate back in the 1970s and early 1980s.
Still, there is some novelty here. Transferring data from one screen to another simply by picking it up and tapping the destination sheet is impressive. So is bringing several screens together to form one big display, a process that's rather easier with these paper-like panels than it is with a set of LCD monitors, especially if the arrangement is an ad hoc one.
Using the flexibility of the screens to add a range of new control gestures is interesting too, though bending one corner to, say, create a bookmark or folding to turn the page could be triggered accidentally by rough handling.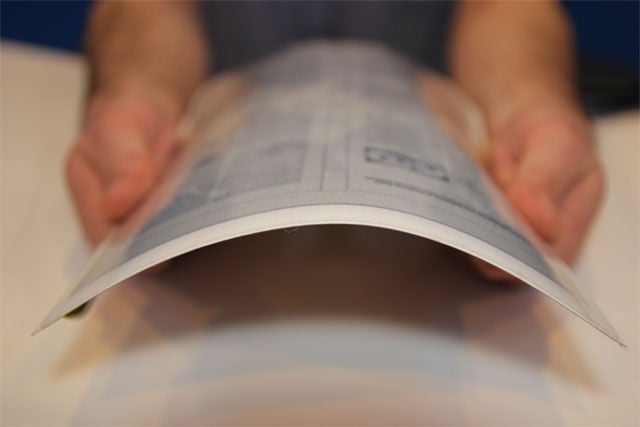 Do not bend
"Using several PaperTabs makes it much easier to work with multiple documents," said Roel Vertegaal, Director of Queen's University's Human Media Lab. "Within five to ten years, most computers, from ultra-notebooks to tablets, will look and feel just like these sheets of printed colour paper."
We hope so, but while it's easy to make a flexible e-ink display, it's a darn sight harder to make the battery and other key electronic components not only thin enough to keep the whole thing bendy but also light enough to be picked up and moved as easy as you might carry a sheet of card - even if incoming 60GHz wireless tech, such as WiGig, will help remove some of those inconvenient ribbon cables. ®
Similar topics