This article is more than 1 year old
Intel uncloaks 'no excuses' smartphone for emerging markets
Enough features to make an iPhone user green with envy
CES 2013 Intel has announced a smartphone reference platform for emerging markets that's a "no excuses multimedia phone," according to the general manager of its mobile and communications group, Mike Bell.
"We at Intel think that emerging-market customers shouldn't have to settle for a substandard experience," Bell said at an Intel press event on Monday at CES 2013 in Las Vegas, Nevada.
To deliver that better-than-substandard experience, the platform is based on the new Atom Z2410 processor, code-named "Lexington", which will be available at clock rates up to 1.2GHz, and which Bell promised will have "the horsepower you need to drive Android applications."
Phones based on the new reference design will have features that will make many current smartphone owners in more-developed markets jealous, especially owners of Apple's iPhone, which looks amore than a little feature-poor by comparison.
For example, the platform supports dual SIMs, which Bell categorized along with other aspects of the platform as being especially appealing for emerging markets. "If you have an area covered by two carriers at different data rates," he said, "instead of having to swap the SIMs in and out physically, both SIMs are active in the device."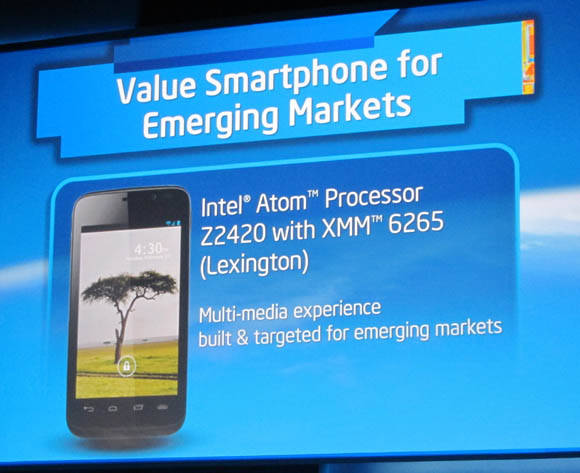 Intel announced a new smartphone platform for emerging markets at CES 2012
In addition, there's support for FM radio and a microSD slot so users can add extra storage over and above what came built into their phones, plus HD video encoding and decoding and the ability to stream 1080p video to big-screen televisions.
Bell also announced that Intel already has three design wins for the platform, with Acer, Kenya's Safaricom, and India's Lava having signed on.
Seeing as how Intel already has Lava, Motorola, Lenovo, ZTE, Orange, and Russia's MegaFon as partners for the smartphone reference platform it announced at last year's CES, expect more manufacturers to sign onto the new platform to try to crack lucrative emerging markets.
Even though ARM has both a head start and a deserved reputation for power-miserly performance, there are plenty of potential customers to tap in Asia, India, South America, Africa, and elsewhere. ®