GlobalFoundries plunks $2bn into New York fab
Cooking up 3D chips and extreme ultraviolet etching
---
GlobalFoundries, the amalgamation of AMD and Chartered Semiconductor's fabs and the world's second largest independent wafer baker, is taking a $2bn pile of cash and building a new research center that hangs off its flagship Fab 8 plant in Malta, New York in an effort to keep pace with rival Taiwan Semiconductor Manufacturing Corp and, of course, Intel and its captive chip fabs.
The chip maker said in a statement that it would be adding more than 500,000 square feet of additional space to the Fab 8 facility, which is located on a 222 acre campus 20 miles north of the state capital at Albany. Construction was begun on Fab 8 in July 2009 with 210,000 square feet of clean room space, which was boosted by 90,000 square feet on June 2010. The complex also includes 221,000 of office space.
The total facility before this new investment weighed in at 1.7 million square feet (including research, development, clean room, and packaging) and has a capacity of around 60,000 wafers (300 millimeters in size) per month, which converts to around 135,000 200 millimeter wafer equivalents per month.
The first gear for etching chips was installed at Fab 8 in June 2011, and GlobalFoundries started wafer baking in the facility in the middle of last year and has been ramping up production – ironically, as AMD has been cutting back on orders – through the end of last year and is supposed to be in full production in early 2013.
The $2bn scheme and additional 500,000 square feet of space represents a significant expansion of the Fab 8 facility and brings the total investment that AMD and ATIC, the holding company run by the government of Abu Dhabi that actually owns GlobalFoundries, has pumped into in the New York fab.
GlobalFoundries says that it will begin expanding the Fab 8 facility shortly and that it hopes to have the construction complete in late 2014. The Fab 8 facility currently employs over 2,000 people, and the technology development center that is being added will add another 1,000 jobs by the end of 2014.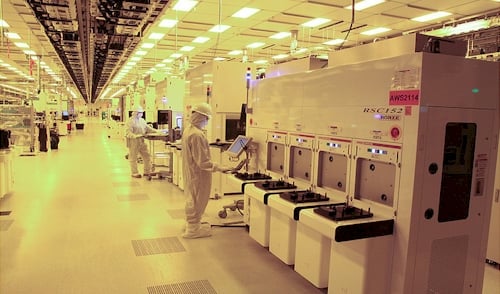 "As the industry shifts from the PC era to a market focused on mobile devices, we have seen increasingly strong interest from customers in migrating to advanced nodes on an accelerated schedule," explained GlobalFoundries CEO, Ajit Manocha, in the statement. "To help facilitate this migration, we are making significant investments in strengthening our technology leadership, including growing our workforce and adding new capabilities to make Fab 8 the hub of our global technology operations."
Just last month, Manocha was lamenting that European Union bureaucrats in Brussels were not focusing enough on manufacturing and were too focused on "innovation." Small wonder that GlobalFoundies is plunking money in Malta, which is backed by investments from New York state (through State University of New York facilities and through tax breaks and other incentives) as well as chip research projects funded by IBM, AMD, Intel, and others in the region. In September 2011, New York put up $400m to try to lure the next-generation 450 millimeter fabs to the Hudson Valley/Lake Champlain region.
The add-on development center at Fab 8 will be doing research, development, and manufacturing for new chip interconnect and packaging technologies, 3D chip stacking, and extreme ultraviolet (EUV) lithography. Fab 8 was designed to start out on 28 nanometer processes and then to jump to 22 nanometers after that. Beyond this point, GlobalFoundries has not made commitments. ®