Panasonic pitches Ultra HD 4K x 2K monster tablet
Pixeltastic, and makes your hands look really dainty
---
CES 2013 Asus has an 18.4-inch tablet-cum-all-in-one-desktop-PC on display this year's Consumer Electronics Show (CES), but Panasonic has it beat: the Japanese giant is showing off a Windows 8 slate that not only packs a 20-inch display but sports an Ultra HD resolution.
Yes, Panasonic's mammoth fondleslab contains 9.8 million pixels arranged in a 3840 x 2560 grid, all driven by an Nvidia GeForce GPU underneath. It's big enough - almost - to show an A3 image at full size.
Its 230ppi pixel density isn't quite up there with the iPad's 264ppi, but it's close enough. Not that Panasonic configures it the way Apple does its "retina" displays: treat the screen as if it had a quarter of its native resolution in order to present regular sized but smooth text rather than tiny writing.
But if you use Windows 8's Display control panel to render text and UI furniture at 200 per cent of their usual size, as website Liliputing did, then "text an graphics look pretty good".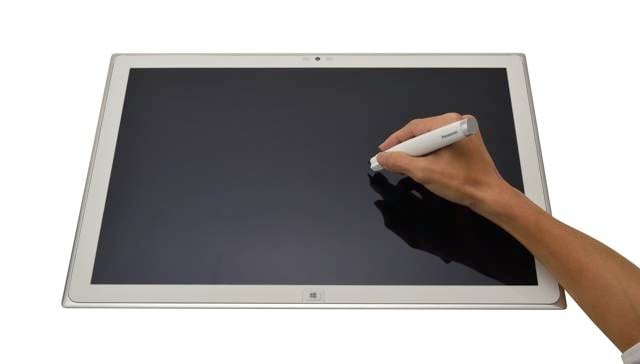 Big enough?
Unsurprisingly, perhaps, the Panasonic colossus is no mere ARM job. It contains a 1.8GHz Intel Core i5-3427U processor, 4GB of Ram - with room to take 16GB in total - and a 128GB SSD.
Buried beneath the IPS LCD is Bluetooth 4 and dual-band 802.11n connectivity. There's a battery too, of course, but backlighting that 4K display and keeping the CPU and GPU running will drain it in a mere two hours, Panasonic admitted.
It's no handheld, of course. The substantial slate weighs 2.4kg so while you might not want to hold in your hand for long, it's no more difficult to carry around than a regular notebook computer.
Panasonic said it will "strive to commercialise" the 4k tablet, which it hopes to bring to market "later this year". ®