This article is more than 1 year old
Review: Lenovo IdeaPad Yoga 13 Windows 8 convertible Ultrabook
A meditation on the portable PC
To be fair to Lenovo, reviewing the IdeaPad Yoga shouldn't really be all about Windows 8. After all, this touchscreen Ultrabook – that bends over backwards to become a fully fledged tablet – is a well crafted piece of hardware with engineering merits of its own. So what, if it runs Windows 8? So do a lot of PCs these days. The fact is, if Windows 8 didn't exist, the IdeaPad Yoga 13 and a whole host of touch and type 'convertible' laptops wouldn't need to exist either. Windows 7 seemed to do the job quite nicely, after all.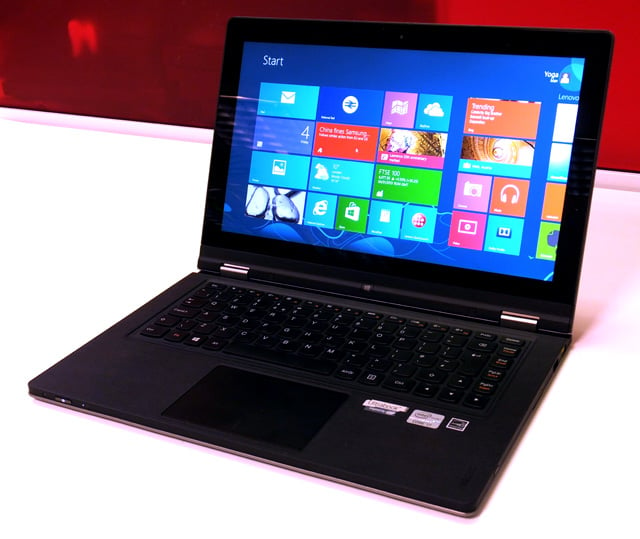 Convertible season: Lenovo's IdeaPad Yoga 13 Ultrabook
Luckily, I'm past the toe-curling hatred of Microsoft's new OS. A bit of familiarity helped, obviously, but so did using the Yoga IdeaPad 13, which made it easier to understand the mindset. Up till then, I'd been using Windows 8 on a desktop machine that lacked any touchscreen features. I was struggling, cursing and complaining to anyone who would listen and it seems I was not a lone voice here.
In short, and if you didn't know it already, Windows 8 without a touchscreen is tedious. The good news is, running Microsoft's new baby on purpose-built hardware isn't all that bad. Lenovo offers a choice of Intel Core i3, i5 and i7 CPUs with the IdeaPad Yoga 13 and I've the 1.9GHz Core i7-3517U model with 4GB RAM here. Its smaller 11in Windows RT companion, the Yoga 11 is an ARM-based alternative and can perform the same bendy tricks but has limited software options.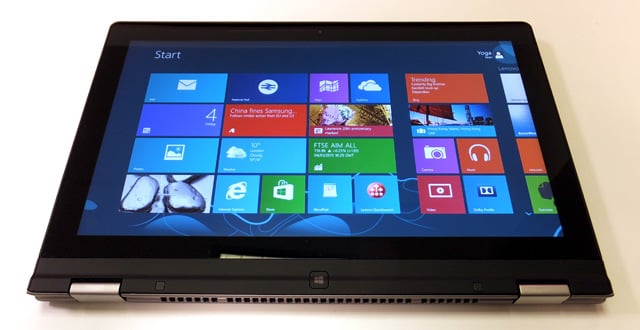 Note the Windows button that toggles between apps and the Start screen
The thinking behind the Lenovo IdeaPad Yoga is to offer flexibility without complexity. Take a look at Dell's XPS 12 flip and spin affair or Sony's Vaio Duo deckchair and you have oddly constructed contraptions designed to position the screen on top of the keyboard and give the impression of a tablet. Lenovo does have the ThinkPad Twist to bring to the party but its approach with the IdeaPad Yoga 13 is refreshing for its elegance and simplicity.
With the Yoga, you can still have a tablet, but the back of it will be the keyboard, which is inactive in this fold over configuration and a virtual on-screen alternative is available. Whether that exposure becomes a problem remains to be seen, but Lenovo has form when it comes to making keyboards that can survive daily hazards, although the AccuType keys here aren't the spill resistant sort found on the company's ThinkPad laptops.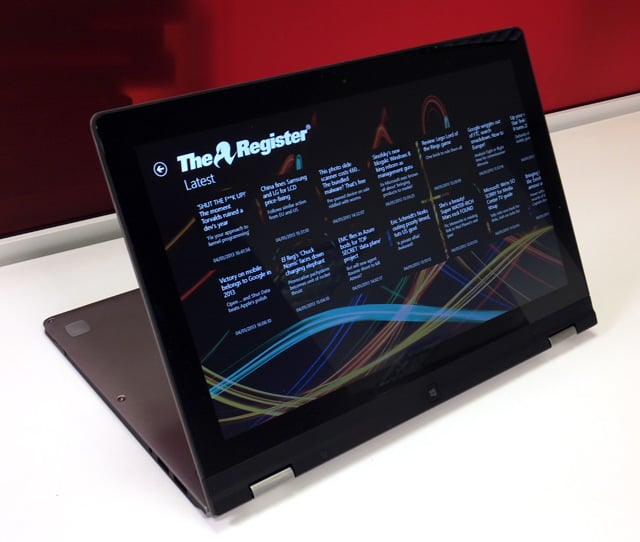 The El Reg Windows 8 app in the Yoga's Stand position
At 17mm thick, the IdeaPad Yoga 13 is certainly slim but lacks any major MacBook Air-style body tapering to make it appear skinnier still. Its robust metallic shell has a classy sheen and lends a hardback book appearance to the recessed black rubberised edges. Due to the screen's gymnastics, you can't open it with one hand while it sits on a desk. The hinges are too stiff and so prising it apart is a two-handed affair revealing a black keyboard and a "leather feel" palm rest surface. It looks pretty good as it doesn't seem to suffer from oily fingerprints and avoids an icy chill of metal or the sweaty slip of plastic.
The keyboard layout is a little cramped and was the main complaint of most that tried it. You can adjust with a little practice but I was forever typing into the line above as I mistakenly hit the Up arrow key instead of the right side shift key. That said, the action is quite superb and the centred trackpad is a boon for us left handers, as I repeatedly perform right clicks unintentionally with offset trackpads. I can forgive the slightly skewed spacebar here, as there's enough of it to find easily.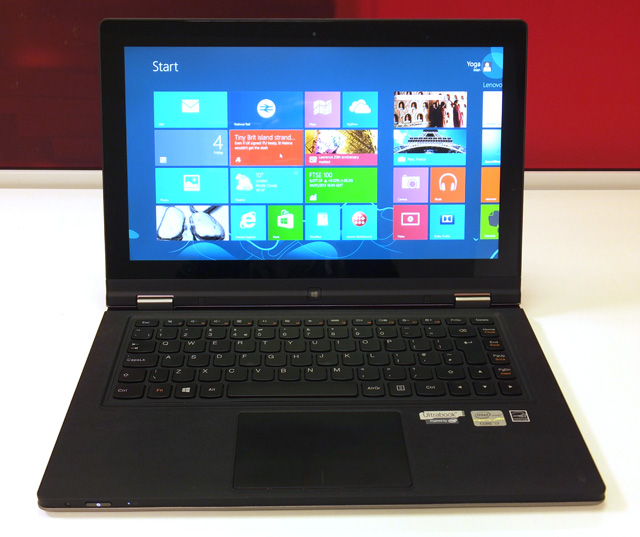 For tablet use various controls adorn the edges with the power button on the front edge
The 10 x 7cm trackpad utilises a Synaptics ClickPad control panel that enables a variety of gestures from pinch-to-zoom to two finger right clicking and scrolling. Rather than having to reach for the touchscreen, you'll find swipes from different edges will perform typical Metro tasks, so you can toggle between the two most recently used applications; open the Charms bar and reveal/hide the Applications bar. The front edge of the trackpad is reserved for the usual left/right click functions.