This article is more than 1 year old
Review: Lenovo IdeaPad Yoga 13 Windows 8 convertible Ultrabook
A meditation on the portable PC
A touch of Ubuntu
Interestingly, the Ubuntu side of things worked with the touchscreen and disengaged the keyboard when folded up in tablet mode. The trackpad did remain active but unfortunately, no virtual keyboard appeared for typing when used like this – perhaps there's a workaround, but it wasn't obvious. The biggest disappointment was that Ubuntu didn't recognise the Wi-Fi hardware and, having no Ethernet either, hampered the usefulness of a Linux Yoga instal.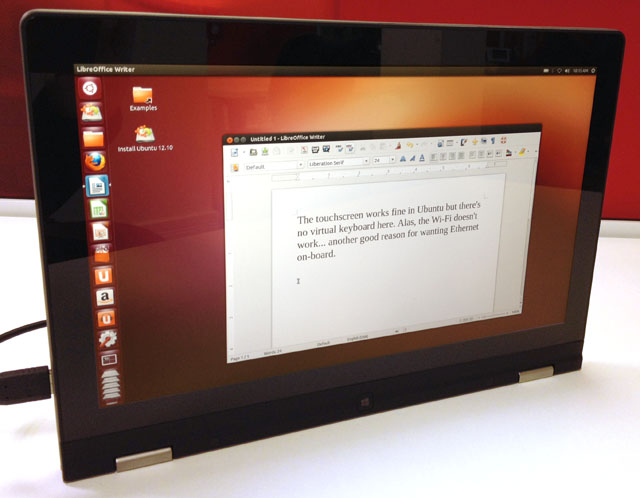 Ubuntu on the Yoga
Following on from intense customisation and quirky installations from kith and kin, I gave the OneKey Recovery a whirl and it was all done in less than 15mins – 6mins for the first copy phase and another 7mins for the remaining installation from a reboot. No doubt the Samsung 128GB SSD helps here but it's a pity it's not bigger though, as there's less than 65GB free out of the box. It's plenty for a tablet, but having half your storage allocation devoted to a default set-up and recovery partition, is less than ideal. I can see that SD card slot coming in handy here.
Incidentally, the start up time from cold is pretty darned swift. In 7secs and you're at the login screen so you can be up and running within 15secs if you're quick with the swipe and type. The Core i7 Ivy Bridge CPU is no slouch, although all the GPU tasks are handled by the integrated Intel HD Graphics 4000. Tests with PCMark 7 notched up a respectable score of 4131 and if you're curious about battery life, it's a shade under 6hrs with casual use, with the more gruelling PowerMark test clocking up a rating of 2hrs 45mins.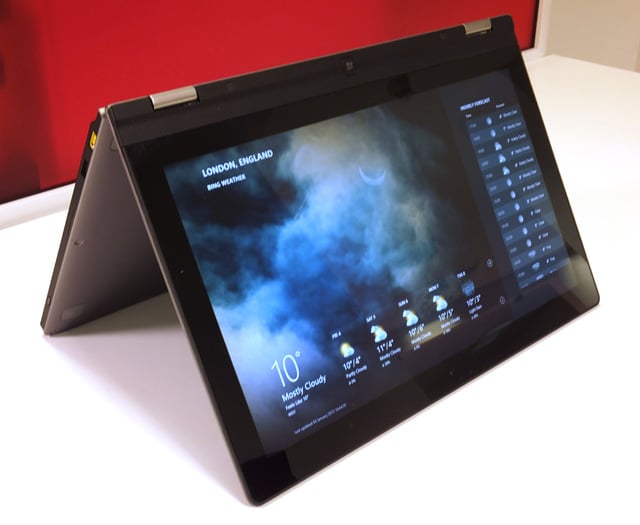 Tent mode is an attractive position for viewing, even on your lap
Now all the bendy modes of the Yoga are intended to suit different scenarios. Tent mode or Adho Mukha Svanasana (that's downward dog for the rest of you) works well for presentation and is quite good for reading too. Although the speakers – they play through the keyboard – won't get such an airing. You can lie the keyboard flat in Stand mode (Bhujangasana or cobra pose) too, which is supposed to be best for movies. I guess it might soften the audio output which, even running Dolby Home Theatre 4, processing is rather harsh and gutless.
I tweaked the Dolby Profile settings for ages here but the speakers just don't have the low end frequency response to warm things up no matter what Dolby's graphic and intelligent equalisers can deliver. The surround virtualiser spatial treatments were effective though, but can sacrifice what little bottom end there is, if overdone.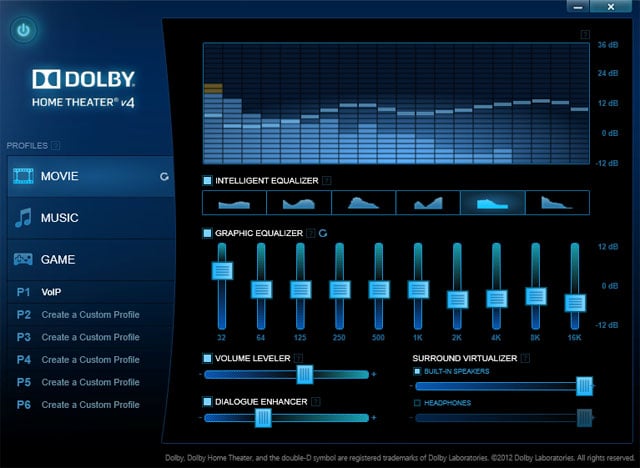 Whatever the Dolby software produces in terms of bass, the Yoga speakers are no match for it
One of the more bizarre aspects of Windows 8 showed itself during the movie and audio tests. If you use the Metro Movie app, then you can't make any adjustments with the Dolby control panel. As soon as you swap over from the Movie app playing in Metro to the Dolby app showing on the Desktop, playback ceases. The workaround is to use Windows Media Player instead if you want to perform both tasks, which you would really. Visually though, movies look fine on the screen, with good viewing angles and the positioning options are helpful in cramped conditions.
When used as a tablet, you're going to notice the 1.54kg of the Lenovo IdeaPad 13. If you're slobbing about at home, this isn't going to be too troublesome, but it can seem unwieldy when whisked out on a train carriage or even casual browsing at a desk. Unless you're engrossed in one of the art or instrument apps and have it flat on your lap, you're more likely to use its touchscreen features when propped up in one of its asanas.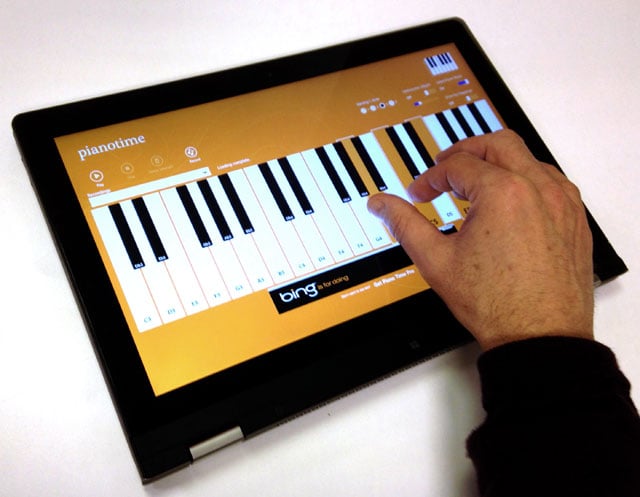 The entertainer: versatile, swift to start and enjoyable to use for casual tasks, but could do with a bigger SSD
The Reg Verdict
While I didn't expect to become a Windows 8 convert, I'm certainly less of a sceptic and I'll admit I enjoyed using the Lenovo IdeaPad Yoga 13, but I'm not convinced working on it is going to be plain sailing. Without hardware like this, Microsoft's big idea seems utterly confusing, but here it all fits rather nice and simply. To say it makes perfect sense would be pushing it, but with additions like Lenovo's QuickLaunch, migration is less irksome and quite a relief if you need to upgrade.
As an Ultrabook it's a fast starter, slim and has a screen resolution that will suit most bemoaning the limitations of 1366 x 768-pixels. Yet, like all x86 touchscreen convertibles, it could do with a couple hours more on battery life. It seems a bit pricey too, but to use Windows 8 effectively a touchscreen is a must and that has to be paid for. Niggles aside, Lenovo's IdeaPad Yoga 13 certainly has plenty of appeal for those looking to buy a convertible Ultrabook, just how practical it is as a tablet with those exposed keys, remains to be seen. ®

Review: Lenovo IdeaPad Yoga 13 Windows 8 convertible Ultrabook
A 13in 1600 x 900 resolution touchscreen, 1.9GHz Intel Core i7-3517U Ultrabook with a 128GB SSD, 4GB RAM and a unique approach to the convertible breed of Windows 8 portables.