This article is more than 1 year old
Facebook testing $100 fee to mail Mark Zuckerberg
Private messages at 'extreme price point'
Got something you'd like to say to Mark Zuckerberg? The Facebook CEO still maintains a profile on the social networking site he founded, but beginning on Friday, sending him a personal message could cost you.
Mashable was the first to notice that some users who weren't otherwise on the Behoodied One's Friends list were being asked to pony up before they could send a message to his Inbox, to the tune of $100 a pop.
As El Reg reported in December, Facebook has been conducting a limited test of a feature that requires users to pay a fee to send messages to people with whom they have no direct connection.
The idea is that the type of users who like to send spam, hate speech, and otherwise frivolous messages typically aren't willing to pay for the privilege. Impose a fee – however small – and they probably won't bother.
If a Facebook user is willing to pay, on the other hand, the social network's spam-filtering software can use that "economic signal" as one way to determine whether that user's message is legitimate.
Facebook is so confident in this theory that it has set the bar pretty low for how much an unsolicited message is worth. During the trial period, dodging Facebook's filters costs a measly $1. Or that's the case for mere mortals, at any rate.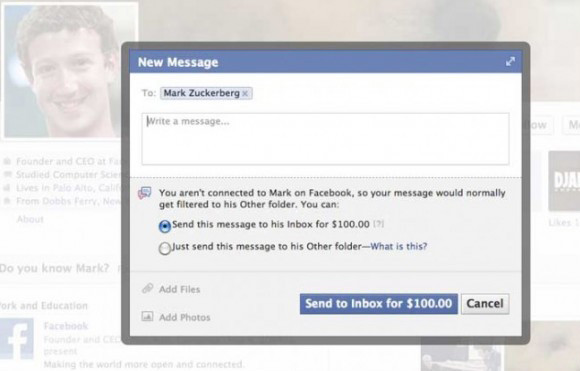 Want to be sure Zuck sees your message? It will set you back a C-Note.
Zuck's $100 fee is something new, and it appears to represent the start of an expanded trial of the pay-per-contact scheme, in which certain individuals will be able to raise higher barriers against unsolicited messages.
In an emailed statement, reps for the social network said, "We are testing some extreme price points to see what works to filter spam."
It's not immediately clear how many people are seeing the fee requests. In a quick test on Friday afternoon, your Reg correspondent was able to message Zuckerberg's account for free, although the message would have been delivered to his Other mailbox, rather than his primary Inbox, in keeping with Facebook policy.
In December, Facebook reps confirmed that the pay-per-message scheme was "a small test" that only involved an unspecified, limited number of users based in the US. ®
Bootnote
It also wasn't clear whether owners of Facebook profiles would get any cut of the fees the site charges other users to message them. If so, it could explain a lot. According to Facebook's S1 filing with the Securities and Exchange Commission, Zuckerberg's annual salary dropped to $1 on January 1, 2013. Maybe he needs the extra cash.