This article is more than 1 year old
Review: Google Nexus 4
At last, we got one
There are two numbers you need to keep in mind as you read this review. Firstly, 239, the remarkably small number of beer tokens Google wants in return for an unlocked, Sim-free 8GB example of the latest Nexus phone. And 2, which is the number of months it has taken me to actually get hold of one for a long-term test.
The second number is also the number of months the Nexus 4 has been out of stock at Google's Play Store in Britain. I should know, I'm one of the poor sods that tried - and failed - to buy one. In the end I gave up, cancelled my order and bought a Motorola Razr i.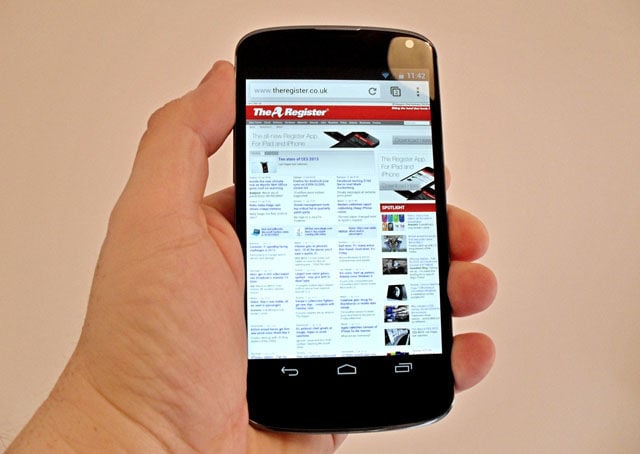 So, for £280 less than Apple wants for the lowest priced iPhone 5 what do you get? Quite a lot as it happens. A 4.7-inch, 1280 x 768 320ppi IPS LCD screen; a quad-core CPU; 2GB of RAM; 8Mp and 1.3Mp cameras; and the very latest version of the Android operating system, Jelly Bean 4.2, in virginal form. On paper, it's a very good deal indeed.
It looks good too. You'd have to be visually illiterate to deny that the new Nexus is a sleek and modern looking bit of kit. Front and back it's faced with Corning's second-generation Gorilla Glass, and the screen is ever so slightly domed across the short axis to make thumb-swipes more satisfying.
Thanks to the chamfered plastic and metal edging that holds everything together, the Nexus 4 should prove durable, but I'd still advise against dropping it: glass can and does shatter. In fact, I wouldn't recommend treating a Nexus 4 with the same casual disregard I subject my splash-resistant Kevlar and aluminium Razr to.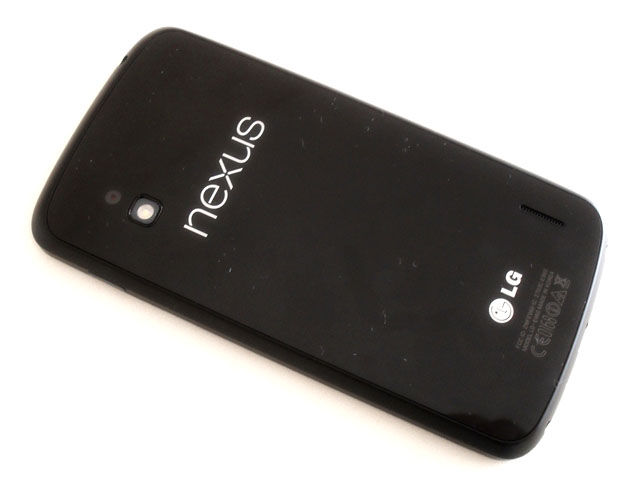 Still, opting for a slippery and potentially vulnerable design has served Apple well over the years when flogging iPhones, so why should it not do the same for LG and Google? Like the iPhone, the Nexus 4 lacks a dedicated camera button, which is a negative mark in my view.
Compared to the HTC One X and Samsung Galaxy S III, the Nexus 4 is either just a little bit lighter or heavier, shorter or taller depending on which comparison you are making. At 9.1mm front to back, the Nexus is a gnat's todger thicker than either but also narrower thanks to a slender side bezel, which makes it easier to use using single-handedly.
The 1.5GHz quad-core Qualcomm S4 Pro APQ8064 chip that hauls the coal may not feature the new ARM Cortex-A15 architecture used in the Nexus 10 tablet's Samsung-made 1.7GHz Exynos CPU, but it's no less a corker. This thing is powerful and fast in a very impressive way, and makes for a supremely fluid user interface.