Review: Google Nexus 4
At last, we got one
---
Android untarnished
As for how the rest of the Nexus 4's hardware does what it does, well for a non-OLED panel the screen is reasonably bright and vivid, the cameras both do a solid if unspectacular job, and call quality - thanks to active noise cancellation - and cellular reception gave no cause for complaint. Neither did its Wi-Fi operation.
On the software front, the camera app has a new party trick thanks to Jelly Bean's Photo Sphere feature, which lets you wave your camera about and capture a 360° view which is then automatically stitched together to form the ultimate panorama.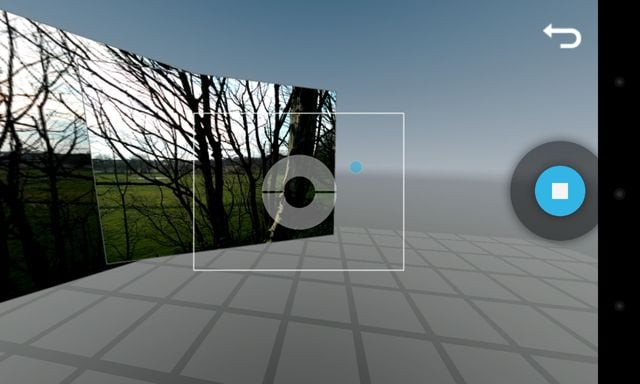 Photo Sphere knits these together into a 360 panorama
Thankfully this doesn't involving moving your device around in painfully slow motion, nor does it constantly stall and insist you start your image capture again though you do look a bit of a spanner while using it in public. While I was taking the test shot, a passer-by actually stopped and asked if I was feeling OK.
Photo Sphere draws on the technology Google developed to record Street View so you can share your images on Google Maps or any other app using the Google Maps API and generate your own pseudo-Street View images.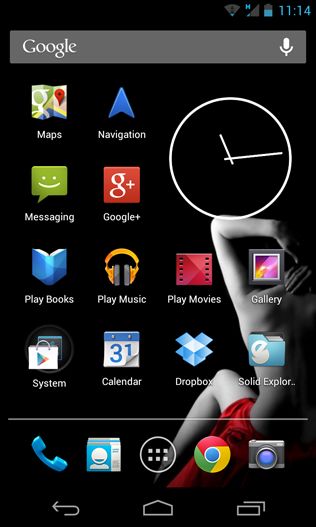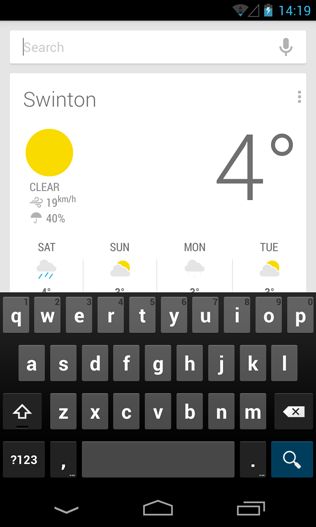 The new Android keyboard looks like the old one but comes with trace input
Another advance is the new virtual keyboard, which now features trace input. This lets you drag your finger over the keyboard from character to character while the system works out what it is you are trying to type.
This is nothing new - the Swype keyboard has been offering the service for years - and to be honest it's not a system of text input I have much truck with. That said, the new stock implementation is very good and certainly seemed to predict what it is I was trying to type more accurately than any other similar keyboard I've used.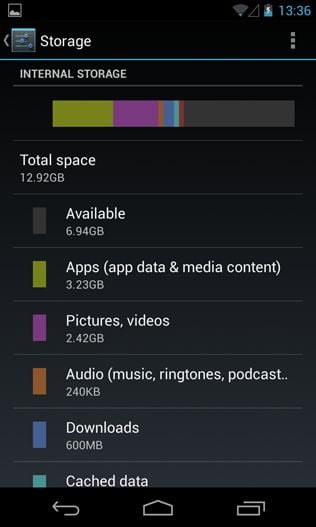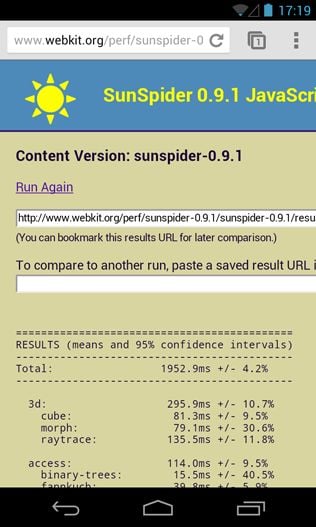 Storage is not a Nexus 4 strong point
Not that the Nexus 4 is without niggles. The first big drawback is the absence of storage expansion. You can argue that it's silly to moan about too loudly about this limitation in an phone that costs only £239 without network subsidy, but with the 8GB device only having 5.4GB free after the system puts its towel on the deck chairs, you really should cough for the 16GB model, meaning you'll fork out £279.
Antuntu Benchmark Scores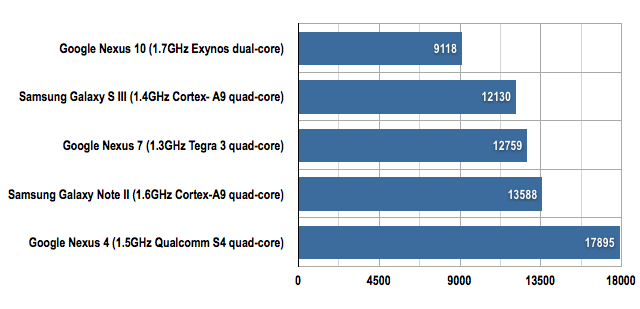 Longer bars are better