Review: Google Nexus 4
At last, we got one
---
Fast runner, hot runner
I am guessing that adding a Micro SD card slot and/or more storage would have started to tread on the toes of Google's hardware partners and Google is of course keen to promote the cloud as an alternative to on-board storage. Either way, if you want more than 16GB of local storage, you'll have to buy a different device.
The second major Nexus 4 drawback is battery life. With considerate use the 2100mAh fixed battery will get you through a ten-hour working day but absolutely no longer. Spend an hour gaming or watching a video and you'll be charging the handset far more frequently. This is the downside of having a powerful quad-core processor and big screen and it's not really good enough.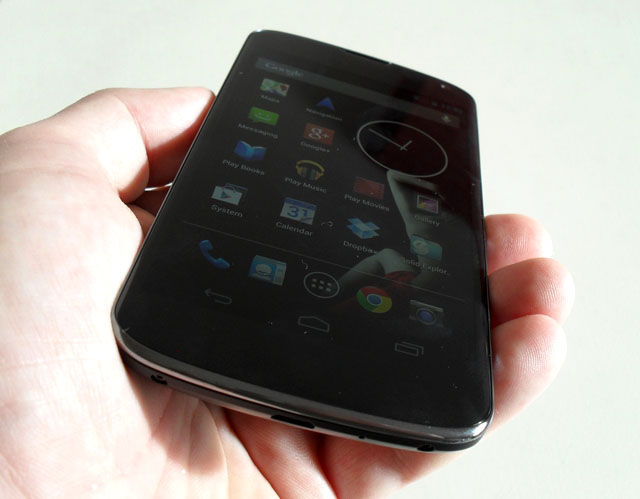 On the subject of gaming, after I spent 45 minutes playing NOVA 3, the back of the Nexus 4 got surprisingly hot, much hotter than a One X or Galaxy S III given the same work out. Something else to bear in mind if you use your smartphone for this kind of entertainment.
Incidentally, the Nexus 4 supports inductive wireless charging and eventually you will be able to buy a charger-cum-stand which looks a lot like the old Palm TouchStone charger. The TouchStone was such a clever idea I'm surprised it's taken this long for someone to copy... er... reimagine it.
At the moment the Nexus 4 doesn't officially support 4G/LTE, though the hardware is there. However, until the numerous power drain, data cap and cost issues are resolved that's no big loss in my book. The very latest incarnation of 3G, 42Mb/s DC-HSPA+, is supported provided your network can handle it too. Here in the UK, Three, for one, is rolling this out.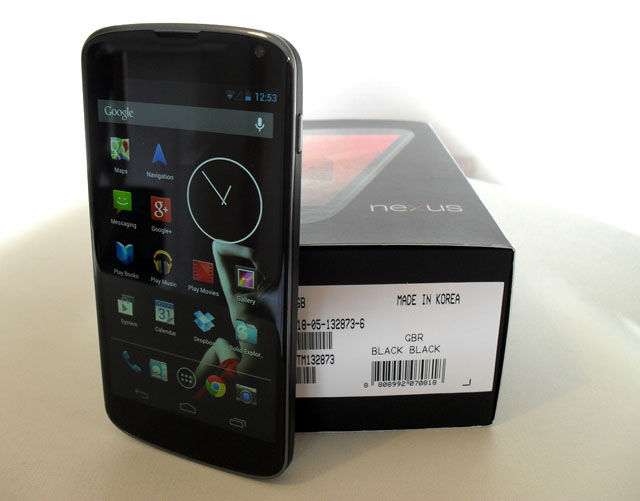 The Reg Verdict
Should you buy a Nexus 4, assuming you actually can? Today, little else comes close to the Nexus 4's quality:price ratio, but the limited storage options, poor battery life, potential fragility and the fact you can't actually buy the thing direct from Google at the time of writing - the Sold Out sign looks ominously permanent to me - may make you look elsewhere.
If you are after an unlocked, Sim-free handset then the Nexus 4 is a very attractive option. If, on the other hand, you are buying on contract, you'll be able to find something better more cheaply - the Samsung Galaxy S III, for instance. Then again, the 'pure' Android UI on the Nexus 4, free of phone vendor and operator add-ons, may raise the Nexus 4's appeal to you.
But don't forget all the five-inch or bigger 1080p devices with 12Mp cameras and LTE trumpeted at this year's Consumer Electronics Show (CES) in Las Vegas from the likes of Sony, Huawei and even budget device wallahs like Alcatel. Suddenly, 720p, 4.7-inch devices are looking just a bit ordinary. ®

Review: Google Nexus 4
LG brings Google's latest Android smartphone reference design to market, packing in a quad-core Qualcomm processor, DC-HSPA+ connectivity and a 4.7-inch, 768 x 1280 display but only 8-16GB of storage capacity.
Price:
£239 (8GB) £279 (16GB) Sim-free RRP