Bubble baron treats Space Station crew to blowup model
Bigelow to build $17.8m tent for SCIENCE
NASA has enlisted Bigelow Aerospace to build an inflatable module for the International Space Station.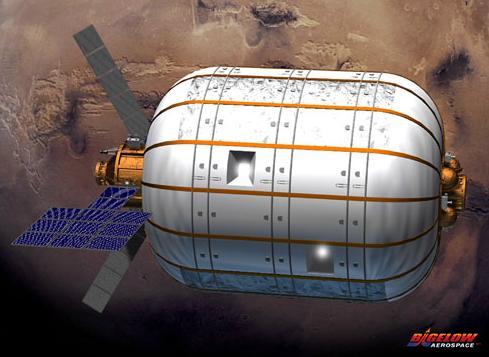 Behold, the proposed orbiting balloon thing
Bigelow Aerospace (BA), founded by space baron Robert Bigelow in 1999, will get $17.8m to put together the Bigelow Expandable Activity Module - a blowup space habitat.
The prototype bubble home will be the company's third orbiting craft, but the first to be used with a crewed spacecraft. If the trial goes well, NASA may use the technology for deep-space missions in the future, such as a launch to Mars.
"This partnership agreement for the use of expandable habitats represents a step forward in cutting-edge technology that can allow humans to thrive in space safely and affordably, and heralds important progress in US commercial space innovation," NASA deputy administrator Lori Garver said in a canned statement.
Robert Bigelow is another billionaire who made his money in Earthbound business - property, in his case - and used that cash to become a space pioneer.
Last year, he signed on the dotted line with PayPal billionaire Elon Musk's company SpaceX to taxi people to and from the space-bubbles BA plans to put into orbit. ®