Data Direct Networks (DDN) will provide storage for a node of Australia's Research Data Storage Infrastructure (RDSI), a $AUD50m project aimed at creating a pool of storage the nation's researchers can use to house large quantities of data, the better to feed it into the nation's supercomputers and subject it other forms of analysis.
RDSI last year announced the sites for its first nodes last year, selecting Sydney's not-for-profit organisation serving the research sector, Intersect, as one site. Queensland's Cyber Infrastructure Foundation (QCIF) and the Australian National University (ANU) will each also establish a primary node, as will eResearch South Australia and West Australia's supercomputing outfit iVEC.
A lesser node will be built at the University of Tasmania (UTAS) and it is there that DDN has done the business. A staff member at that university recently blogged the handsome photo at right, proclaiming the case depicted contained a storage appliance to be used in its RDSI node.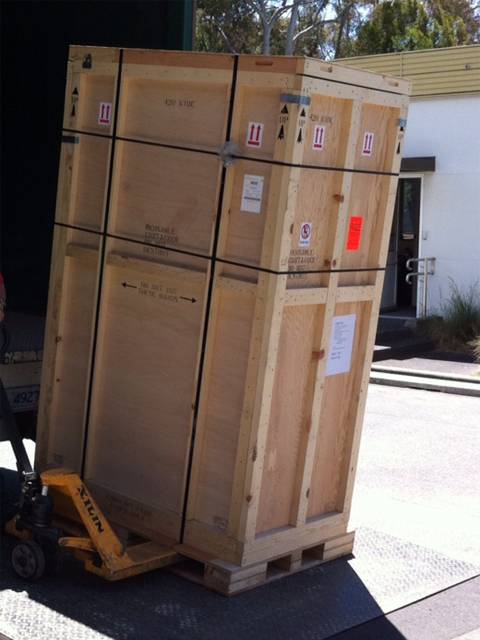 We have top men working on RDSI ... top men
The Reg understands, from a UTAS source other than the blogger, that the case contained a DDN array that is now in the process of being provisioned with around half a petabyte of disk. Another half petabyte of capacity will remain unused, for now.
The small size of the array compared to the 100PB mentioned above is indicative of the fact that UTAS' RDSI node is not a "primary" node. Those larger nodes will serve users at several institutions. Intersect, for example, serves 11 institutions. QCIF serves seven. UTAS will work with Australia's Antarctic Division and the CSIRO on its node.
RDSI's architecture is designed to "enable the provision of such broader data sharing, movement and access services as are required at a national level to support data intensive research and research collaboration that are not otherwise available." Each node must conform to a specification but is free to choose its own source of storage from among fourteen approved suppliers, nine of which are storage vendors.
UTAS' choice of DDN is therefore potentially significant, as the interoperability and data federation the project desires will surely be easier to achieve with a homogenous collection of appliances and software.
DDN's presence at UTAS could hint at just such a direction, as another soon-to-be-host of a primary node, iVEC, is a already a known DDN customer.
Other annoucned nodes, however, are yet to decide on their choice of storage hardware. The Reg has seen minutes of meetings at ANU that indicate it is considering vendors, while eResearch SA told us it is yet to make a purchasing decision.
Intersect told us it has "shortlisted vendors and aims to make a decision by March" and that interoperability is at the top of its feature list as "A major challenge for us is to manage the technical coordination of the RDSI so that it operates efficiently with all 12 universities contributing to the node, as well as with the other RDSI nodes."
Whoever scores the gig can count on making their sales targets for many quarters to come, as Intersect said it "… is looking to build a long-term relationship with a vendor. The Intersect RDSI node is likely to be a single vendor site, with procurements over several years." ®
Bootnote
The Reg was today (April 5th) contacted by a reliable source who says UTAS was not the first working node. Queensland's RDSI node, he says, went live in December 2012, powered by an SGI IS5500 packing about a petabyte.
Similar topics