The International Renewable Energy Agency (IRENA) has kicked off its third assembly in Abu Dhabi with the launch of an open-access renewable energy atlas.
The atlas, available here, currently charts solar and wind resources and infrastructure.
IRENA hopes that a single resource for renewable energy data will help countries "assess their renewable energy potential", as well as supporting companies considering investments in renewables.
"Assessing renewable energy resources is the necessary first step in answering these questions and in eventually creating an enabling market environment for deploying renewable energy. This first step requires large upfront investment in evaluation, and a high level of technical knowledge. That is why a global and open portal providing this information can make it easier to take this first step," IRENA explains.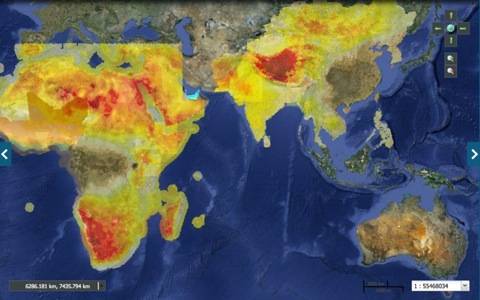 Work in progress: IRENA's view of solar irradiation data at launch
By next year, IRENA hopes to include geo-thermal, bio-energy and marine energy in the datasets behind the map.
The agency is pleased with the progress of the summit, with China announcing its intention to join the agency. There are currently 104 member states, with a further 55 countries either applicants for membership or signatories to IRENA.
At launch, the agency notes, the map is incomplete: "In the build-up phase, the availability of data will vary from region to region depending on what has been made available to the initiative. There will also be variation in the temporal and spatial resolution of the available data", it states. ®
Sponsored: How to simplify data protection on Amazon Web Services