Redmond is pushing out a Service Pack 1 update to System Center to get all of the functionality it has been talking about out the door.
It was only last September when Windows Server 2012 was launched with much fanfare and the combination of System Center 2012, Microsoft's server and hypervisor control freak, was billed as "the first cloud OS". And now, only four months later, SP1 is here.
The company is also rolling up some of the nifty things it has created internally to run its Windows-based Azure public cloud and offering it as a bolt-on to service providers trying to build their own clouds based on Windows, System Center, and the Hyper-V server virtualization hypervisor.
In a webcast to launch the updates to System Center and the new Azure Services for Windows Server, Michael Park, corporate vice present of cloud OS marketing in the Server & Cloud Division, said that the operating system will play an important role on clouds, from the devices that are endpoints back to the data centers that feed them. And because Microsoft has over 1 billion end-user customers and 20 million businesses using its software, as well as 75 per cent of the world's data center servers, it was uniquely qualified to tackle the big problems that come from running cloudy infrastructure.
It is hard to argue these days that Microsoft doesn't understand scale, as its Bing search engine and Azure cloud, among many other services, amply demonstrate. And perhaps equally importantly, Microsoft has a vast base of service-provider customers already using its Windows stack who are looking to transform from traditional hosting to cloudy infrastructure.
Mike Schutz, general manager of Windows Server and management product marketing, said that there are over 14,000 service providers in the world that have built hosting businesses based on Windows, with 8,500 peddling SQL Server and 5,500 selling Exchange Server as add-on features of their hosting.
Microsoft has not been at all shy about what it wants with the triple whammy of Windows Server 2012, System Center 2012, and Hyper-V: to use price and technology to knock VMware out of the clouds and back to earth.
With System Center 2012 SP1, which has been in beta for the past several months, Microsoft is picking up the pace on getting the full capabilities of its stack out there. Now, the System Center 2012 control freak can reach out and manage Windows Server 2012 itself, which it could not do in the initial release last year, as well as the SQL Server 2012 relational database.
By supporting Windows Server 2012, System Center also supports the Hyper-V 3.0 hypervisor – and this is important, too, for obvious reasons: no one trying to build a cloud today is going to try to do it with Windows Server 2008 R2 and Hyper-V 2.0. With System Center 2012 SP1, not only can the control freak boss around SQL Server 2012, but it can use that most recent Microsoft database as a repository for data created and stored by System Center itself.
The important thing as far as Microsoft and its customers are concerned is that now the Windows Server stack can deliver on the promise of having a single instance of the Virtual Machine Manager add-on to System Center create and manage a cloud that can be extended across 64 clustered server nodes and spanning as many as 8,000 virtual machines. This can be extended further by clustering management nodes.
With the initial System Center 2012, Microsoft allowed customers to manage virtual server slices out on the Azure public cloud from the same pane of glass they use to manage their internal virty servers. This was done through a feature called App Controller, which in SP1 is now extended to babysit virty servers running at any service provider, not just Microsoft.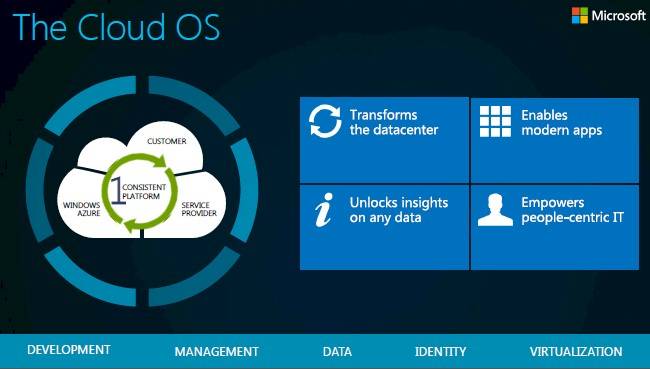 Microsoft's cloud OS does it all and anywhere you want to do it
"System Center is the first true hybrid cloud management tool," proclaimed Schutz, saying you can use it to move virtual machines out to Azure and back, or just to archive them on Azure. Schutz also said that System Center 2012 SP1 would be able to control freak other hypervisors and operating systems, but a list of those was not available at press time.
The SP1 update of System Center 2012 also includes hooks to an Azure-based service called Global Service Monitor, which uses Microsoft's own performance data from its Azure points of presence around the global network to give you a sense of how your applications will perform – running inside your own data center, running on Azure, or a mix of both – based on the state of the global intertubes and the systems running your applications. Global Service Monitor is available now as a 90-day trial and will be available in March; it is not clear what fees Microsoft will charge for it.
Microsoft has also taken some in-house goodies that it uses to run multi-tenant clouds with virtualized processing and networking, and rolled it up as Windows Azure Services for Windows Server, which will help service providers set up their clouds.
The two Azure Services that the company is rolling out alongside System Center 2012 SP1 relate to raw infrastructure slices on the Azure cloud and web site hosting. In addition to this, Microsoft has also put a new API layer inside of its control freak called Service Provider Foundation, which will allow service providers to create multi-tenant, self-service portals that integrate with infrastructure clouds based on the Windows stack from Microsoft.
This latter bit will be part of the Orchestrator component of System Center 2012, and is available for free to service providers at this link.
Finally, Microsoft announced that System Center Configuration Manager is now integrated with its Windows Intune cloud-based service for managing PCs, tablets, and smartphones running Windows 8, Windows RT, or Windows Phone 8. Microsoft says it can handle up to 100,000 mobile devices with the latest Intune January 2013 release. All existing Intune accounts current in June of last year will be upgraded to the January 2013 release next month.
If you are already using the Configuration Manager feature of System Center to manage your PCs, you can stick with that to manage PCs or co-mingle Configuration Manager and Intune to manage PCs and smartphones and tablets from inside System Center. Those who have licenses to System Center Configuration Manager will get discounts on Intune licenses, according to Microsoft. ®