This article is more than 1 year old
NASA snaps pics of China's 'Airpocalypse' pollution disaster
Bad from orbit, worse on the ground, shades of London '52
Images China's capital city, Beijing, is suffering from some of the worst air pollution imaginable – and NASA has the images to prove it.
The lung-clogging cloud enveloping Beijing was measured by the US embassy on January 14 and found to contain fine, airborne particulate matter at a volume of 291 micrograms per cubic meter of air. How bad is that? Well, the World Health Organization considers that measurement to be safe when it is below 25.
During the same period, Beijing experienced an air quality index (AQI) rating of 341. And how bad is that? According to the AQI ranking system, a rating of 50 or under is considered "Good", 101 to 150 is "Unhealthy for Sensitive Groups", and over 300 is "Hazardous" – and by hazardous, the AQI's developers mean "Health alert: everyone may experience more serious health effects," and not just those members of sensitive groups who already have respiratory challenges.
And that's not the worst of it. January 12, NASA says, was the most severe day of what they call "the current air crisis." On that day – this past Saturday – the AQI was a stunning 775 and the US embassy measured the airborne fine particulate matter at 886 micrograms per cubic meter.
The situation is so bad that it has been dubbed the "Airpocalypse" – and no, that's not a reference to "The Country's most famous Air Guitar Band"; they're Airpöcalypse. The Reg wonders how "Airpocalypse" translates into Mandarin, but we digress...
One Tuesday, NASA published two Airpocalypse images, one taken on January 3 before things got really bad, and a second taken on January 14. Both natural-color images were captured by the Moderate Resolution Imaging Spectroradiometer (MODIS) on NASA's Terra satellite, one of the agency's Earth Observing System (EOS) polar-orbiting and low inclination satellites.
The image from January 3 shows snow blanketing much of Beijing and its environs, and a brownish haze forming around the city itself: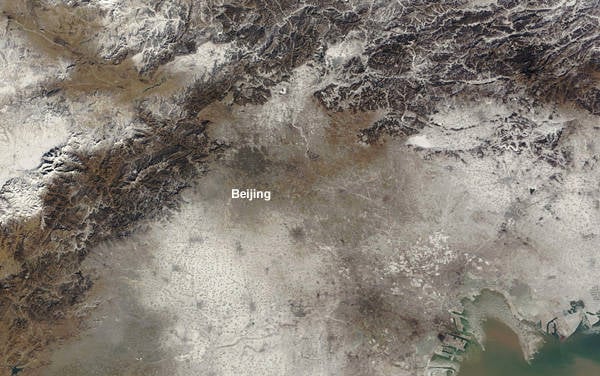 January 3 – bad, but not too bad (click to enlarge)
By January 14, however, Beijing had disappeared from MODIS's gaze. In the image below, white clouds obscure much of the area south of the city, but the city itself is obliterated by a brown-tinged grey cloud of dense smog.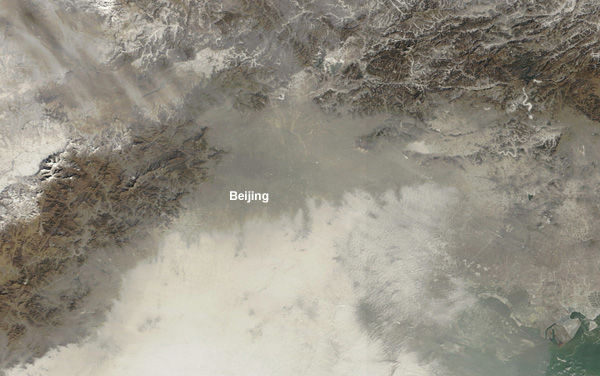 January 14 – where did Beijing go? (click to enlarge)
Here in the San Francisco Bay Area, your Reg reporter well remembers bad-air days in the late 1950s and 1960s when the bay would be covered by what could only be described as a giant translucent turd lying over the water, occluding the view of San Francisco's sister city, Oakland.
In response to such pollution, the conservative Republican president Richard Nixon signed the National Environmental Policy Act (NEPA) on New Year's Day of 1970, and the Environmental Protection Agency (EPA) was born in December of that year. Since that agency took charge of our nation's air quality, the San Francisco Bay turd has dissipated, Oakland has reappeared, and the entire nation is better for it.
The Reg respectfully suggests that those who would rein in the EPA – such as current House Speaker John Boehner, who when speaking with farmers in 2011 referred to "the need to stop the EPA's assault on American families and job creators" – take a trip to Beijing and discover what poorly regulated air quality can sadly lead to.
Or, if a time machine can be made available, skip over to December 1952, when The Great Smog killed an estimated 12,000 people in London. And if there's room in that time machine, may we suggest bringing along Chinese Communist Party leader Xi Jinping?
He should feel right at home. ®