Mark Moshayedi, CEO of flash pioneer STEC, doesn't think "flash is forever". While his firm is now battling it out in the enterprise solid state drive space, he has a different vision for the future. El Reg storage desk recently met with Moshayedi, where he expanded on the firm's current strategies and explained how it had saved millions by developing its own caching software. He also told the Vulture that STEC's ownership of its own controller tech was what would help it beat its rivals.
Of course the flash business wasn't always a battle: once upon a time, STEC reigned supreme with its ZeusIOPS Fibre Channel drive. But now there are dozens of suppliers and multiple formats and STEC is slugging it out with rest of them in the enterprise SSD scrapfest, hoping for the good times to return.
Recalling the end of the salad days, when STEC was the sole supplier of Fibre Channel SSDs for EMC and other customers, Moshayedi said: "It took our competitors until late 2011 to produce a second supplier. There was Samsung with a SATA SSD behind an Emulex FC bridge and Hitachi GST got its FC drive qualified."
Discussing competitors generally, he said: "Some are out to make money and some not. We are a for-profit organisation and need to make money. Over the last couple of years a lot of people have entered the SSD business, some purely based on profit. [Others not, from his point of view.] Eventually they will all need to make money... We started STEC with $70,000 in cash and never took a dime until we went public."
Moshayedi spends his hard-earned cash collecting classic cars, and counts a red Ferrari, a GullWing Merc and finned Americana extravaganzas as some of his favourite motors.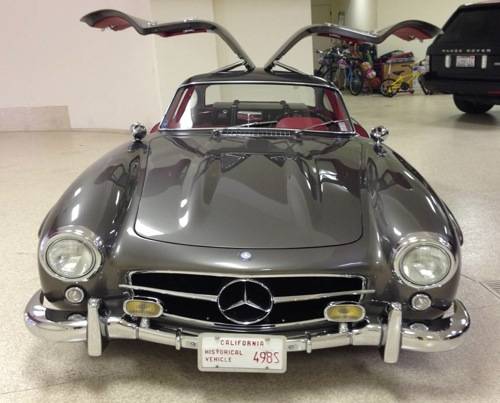 Moshayedi sent us this shot of this Mercedes Benz GullWing coupe from his collection
The STEC focus going forward is on SAS, 6 gig now with 12 coming, and PCIe interface flash products with an interest in the embedded market alongside these two twin foci. These days servers can be all-flash or have a flash cache, in which case they need flash caching software.
Moshayedi said that STEC spent $6m to develop its Enhanced IO caching software, which is available for Linux, VMware and Windows. It works with an supplier's SSDs and according to the CEO, provides about 90 per cent of the performance of an all-SSD system. The storage firm boss appears pleased with STEC's caching technology, observing: "NetApp said it's the only [caching] software to pass all their tests."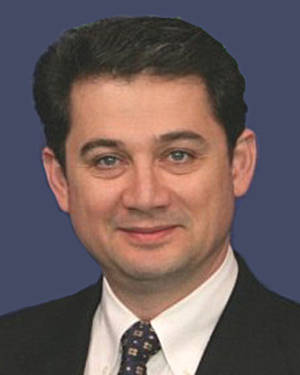 Mark Moshayedi
He contrasted STEC's $6m in-house spend with that of its competitors, which had to buy in their caching technology.
El Reg had a look in our archives, and note that:
Fusion-io spent $95m buying IO Turbine,
SanDisk bought FlashSoft for $65m,
NVELO was bought by Samsung - for a figure somewhere around $58m, and
Indilinx was bought by OCZ for $32m worth of OCZ shares.
Moshayedi is pleased with STEC's in-house development smarts and money-saving strategy, and implied that it outsmarted its competitors. He also spoke about STEC's own flash wear-reducing and management software, CellCare, saying it can take raw 24nm MLC NAND from Toshiba, with a 3,000 Phase/Erase (PE) cycle endurance and raise that to 40,000.
He told El Reg that he doesn't think STEC needs a closer relationship with a NAND foundry. According to the CEO, NAND foundry operators collectively are not making money because there is oversupply. He added: "We've been in the memory business for 20 years and we've never had an availability problem."
He noted that Micron has only made money in two of the last few years and that Intel seemed to have seen how bleak the flash fab business was and "sold its interest to Micron. There is no supply problem."
Of course OCZ has also experienced its share of flash supply problems. STEC is not pursuing closer ties with a NAND foundry operator, Moshayedi added.
ASIC-led development
STEC's development process is underpinned by revs of its ASIC (Application-Specific Integrated Circuit) controller. Once a new version of this is developed then revised iterations of its existing products, using the new ASIC, tend to happen as well as - potentially - a new product being developed using the updated ASIC's capabilities.
Next generation ASIC will include LDPC (Low-Density Parity Check) functionality (a form of signal processing), SOP and NVMe support, 12Gbit/s SAS, and, of course, support for flash but also MRAM. The current schedule is for it to become available by the end of 2014's first quarter. Moshayedi added: "All future generations of our products will have compression built in."
Three-bit NAND, TLC
Moshayedi confirmed that STEC intends to bring out TLC NAND product: "It requires a little more ECC and the new controller which will have LDPC technology. STEC has a team of 25 engineers working on CellCare and LDPC technology."
The STEC boss also noted that Apple had bought Anobit, which developed its LDPC technology, for around $450m - implying that STEC was sorting its LDPC tech a lot more cheaply...
STEC has experienced TLC interest, he told us: "We actually have RFPs from customers." TLC is suited to write little, read a lot applications because of its lower endurance compared to MLC (2-bit) flash. Moshayedi added: "CellCare could get us 10 times the raw endurance of TLC. Add in LDPC in the next-generation ASIC and we get 20 X. IT makes it an MLC replacement."
He expects a TLC product to be available by mid-2014 with a price in the 50¢/GB area.
Flash is not forever
STEC is looking beyond flash, which won't last for ever, to MRAM, Magneto-resistive RAM, which is faster than flash, has a longer endurance, is bit-addressable as opposed to NAND's block addressability, and is still non-volatile, providing a storage memory facility.
A current STEC SSD can be viewed as being made up from DRAM, NAND, Flash Controller and backup super-capacitor: "So assume we can remove the cache and power backup," giving us a next-generation SSD made up from NAND, MRAM instead of DRAM, and the controller. "We could get very good write aggregation through the MRAM and optimise writes," says the CEO.
Moshayedi adds: "There could be specific products designed for MRAM with no flash. We currently have the ZeusRAM SSD, using DRAM and flash and intended for write log storage and cache consistency application types. We might imagine a ZeusMRAM product, that's a thrust of STEC's MRAM activity. It will be more expensive but provide high capacity and high performance at the same time."
All-flash array
Will STEC make an all-flash array? The flash boss said: "We're looking at putting a solution together for our customers, the less sophisticated customers. There will be two reference designs using somebody else's software and standard hardware."
We might envisage a product built by STEC partners comprising a commodity Dell, HP or Lenovo server in a Xyratex enclosure with DRAM and STEC SSDs inside it. As for software, STEC is looking at Nexenta and Windows 2012. The reference designs could be ready for the second quarter of this year.
Top tip: Own your own controller tech
The thing that gives STEC its strength is its ownership of its own controller technology. Moshayedi said: "Very few SSD businesses own their own technology... In the flash product technology business there are technology cycles and these are getting shorter. Hopefully we can re-engage with OEMs as well as going into the enterprise. We're actually doing very well compared to our plans."
He says STEC and Fusion-io are using the same business model. Yes, STEC was a little late into MLC SSDs and PCIe flash cards; it missed a couple of cycles, but, in the longer term, this won't matter, he says. Competitors that undercut STEC with loss-making pricing schemes will have to price for profit eventually and their advantage will disappear, he adds. Mark Moshayedi, along with his two brothers, Manouch and Mike, are STEC's founders, which the CEO adds is: "not being like a brought-in CEO."
STEC is betting that superior controller technology and a willingness to enter the TLC NAND and the MRAM solid state technology areas will restore its lustre.
But competitors like Micron, LSI, Fusion-io and several others will be working to keep it in its current lowly place. Moshayedi says he and his brothers know where they are going and will be successful. STEC's Fibre Channel SSD dominance was not a flash in the pan and STEC wants us to know it is here for the solid state long haul. ®