EMC anoints 'Elect' group of IT pros
75 members see career upside helping EMC 'span brand loyalty and advocacy'
---
EMC has named the first 75 members of the "Elect", a group it says will "span the gap between brand loyalty and brand advocacy."
Announced last November and pitched as a "community-driven, peer-nominated recognition program that acknowledges distinguished contributions to the EMC community by employees, customers, and partners" that will "provide another channel to [for EMC] connect with its loyal community base across all social platforms and weave them further into our corporate DNA."
Invitations for membership were open to all – even competitors – and more than 200 folks applied. Those selected demonstrated "holistic social engagement for the previous calendar year" and are now expected to show "leadership, commitment and positive attitude [to] set the cadence of the community.
EMC says participants "… will receive unprecedented connection into product teams through dedicated liaisons," while EMC gets "a low-latency, trusted connection into the highest value influencers in our social ecosystem."
If your abdominals are contracting and it feels like a good idea to find a bowl or bag after reading those extracts from EMC's emissions on the Elect, a quick search for EMC Elect produces several blog posts from folks who made the cut from among the 270 nominations. All seem pleased and pleasantly surprised. None write that they feel worried about being used to promote EMC and instead see it as a feather in their professional caps.
One of the new Elect, Australian author of the NetWorker blog Preston de Guise, has declared himself "chuffed" and "humbled" to have been accepted and hopes being part of the group will mean he can influence EMC and the wider industry.
"Particularly coming from a NetWorker background, I've watched various companies and people over the years spread all manner of FUD about the enterprise-suitability of the product, even though for the most part it's been BS," he told The Reg in an email. "No product is perfect and I'd never say NetWorker is, but a primary frustration for me over the years has been clearing up outright FUD and misdirection about its capabilities. I'd like to think EMC Elect will give me another opportunity to continue to tread that path."
"I'll admit from a personal point of view, there's also some feeling of recognition with the programme - I've been working in this field for quite some time, and particularly with backup, I think it's an area of IT that gets very little real recognition. EMC Elect may be limited to a single vendor, but I do like the idea of peers believing I make a worthwhile contribution."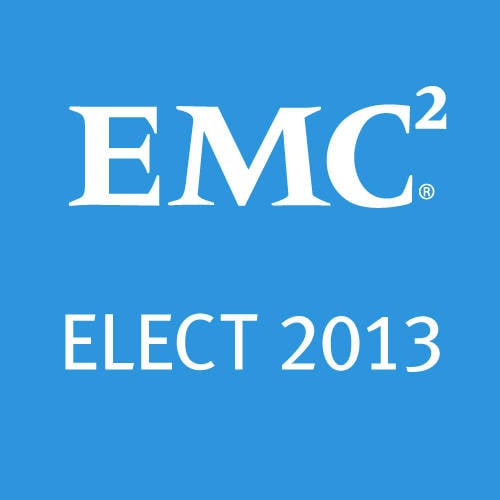 EMC Elect members get to pop
this logo on their blogs and .sig files
De Guise also pointed out that just what Elect members will do has not been outlined.
"I'm not sure what EMC Elect will bring," he wrote. "Obviously EMC are intending to provide EMC Elect people with more direct access to people within EMC – whether or not this is a higher level of access to what NDA service partners, etc., are provided access to is to be seen, but I'm certain we'll be provided with opportunities to offer feedback and suggestions. Those of us who have been long term product users are always keen to participate in that way."
EMC says this year's Elect, listed here, are the first annual intake. The program appears similar to others like Microsoft's MVP, which is now in its twentieth year and boasts over 4,000 members. If the Elect matches that level of success, EMC will doubtless also be chuffed and humbled. ®