FAA grounds Boeing's 787 after battery fires on plastic planes
Not just for iPods and laptops but Dreamliners, too
The US Federal Aviation Administration (FAA) has grounded all Boeing 787 Dreamliners over fears that its lithium-ion batteries are unsafe, after they were linked to two aircraft fires in the space of ten days.
"The battery failures resulted in release of flammable electrolytes, heat damage, and smoke on two Model 787 airplanes," said the FAA in a statement. "The root cause of these failures is currently under investigation. These conditions, if not corrected, could result in damage to critical systems and structures, and the potential for fire in the electrical compartment."
The grounding came hours after an All Nippon Airways 787 flying over Japan had to make an emergency landing due to a fire in its electronics compartment. The incident follows a similar fire on January 7, where a Japan Airlines aircraft, thankfully empty, burned for 40 minutes just after it landed at Boston's Logan International Airport.
Judging from the state of the auxiliary power units that caused the Boston fire, the problems are serious. The National Transportation Safety Board is also conducting a separate investigation into the issue.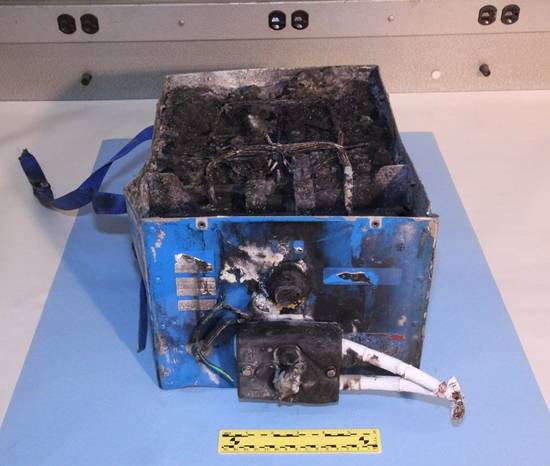 Not a sight for nervous fliers
A source familiar with the case told El Reg that the precise cause of the fire is yet to be determined. They said that the 787 does carry a fire suppression system, which uses inert gas to suffocate flames, but it only covers the cargo hold. The electronics compartment just has a smoke detector.
The fleet's grounding has been likened to a similar order issued in 1979 over troubles with the DC-10. That's hardly an association desired by Boeing for its much-delayed but popular composite aircraft. While other 787s have suffered teething problems, like cracked windows or leaking fuel, groundings by the FAA and other air authorities are a major problem.
Whereas Airbus dedicated the bulk of its efforts into building bigger aircraft like the A-380, Boeing concentrated on fuel efficiency with the 787. The lightweight hull of composite materials has a large amount of on-board electronics, meaning batteries are necessary to make sure there's enough juice.
Lithium batteries are notoriously tricky things, as any laptop or consumer electronics manufacturer will tell you. But when you're 30,000 feet up and in an aircraft packed with the things, a fire is a major problem, particularly if the ruptured batteries are leaking corrosive and conductive fluid over electrical systems.
If on-board suppression systems can't handle an in-flight fire, the only solution is to ditch the plane fast and get everybody off, and the 787 is designed for long flights over oceans. To date, no large commercial airliner has even landed intact on open ocean (despite what the pretty picture in the kiss-your-arse-goodbye folder shows) and no-one wants to be the next to try.
Engineers are now going over the fleet to try and identify the problem. United is the only US airline using the 787 and its aircraft are confirmed down while checks are carried out, as are most of the others that have been delivered. ®