The last two months have seen a dramatic spike in use of the "We the People" online petition system set up by the White House, and with President Obama about to start a second term, the rules are being changed.
The petitioning system was set up by the Obama administration in September 2011, and initially it required the White House to acknowledge the petitioners' complaints if more than 5,000 people signed up. This was later raised to 25,000, but in light of a massive spike in use, the response threshold is now being raised again, to 100,000 signatures.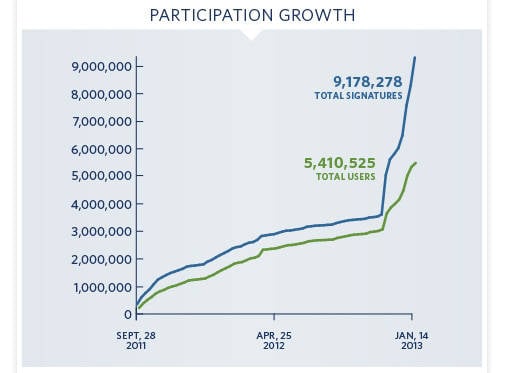 "In the last two months of 2012, use of We the People more than doubled. In just that time roughly 2.4 million new users joined the system, 73,000 petitions were created and 4.9 million signatures were registered," said Macon Phillips, the White House's director of digital strategy.
For most of 2012, it took a petition 18 days to reach the 25,000-signature threshold, but in November and December this dropped down to five days and more than 60 per cent of all successful petitions fell in these two months. The idea has caught on online, it seems.
The most petitioned area on the site was for civil liberties, with government reform and human rights the next most popular topics. But the pranksters of the internet have had some fun too.
A petition calling for the US to invest in building a Death Star reached the 25,000 signature mark with ease, prompting a tongue-in-cheek response from the White House. The Hacking group Anonymous has also petitioned for DDoS attacks to be legalized.
The current cause du jour is a petition to investigate the prosecution of troubled internet genius Aaron Swartz. So far this has garnered just 38,000 signatures, well below the new threshold, but the 100,000 limit won't be applied retroactively.
Lest Americans think they've got the rough end of the democracy stick, however, the situation with online petitions is much worse in the UK. The British government already has the e-petition signature threshold set at 100,000 and is considering raising it further to cut down on the number of responses it needs to make. ®