Microsoft's ARM blunder: 7 reasons why Windows RT was DOA
Redmond's low-rent tablet OS was doomed from the start
3. Microsoft is competing with itself
The bottom line is that Windows RT isn't Windows – and we mean that quite literally: Windows RT is Windows in name only.
Windows RT borrows all of the new and unaccustomed features that made customers leery of Windows 8, but it leaves behind most of the familiar aspects that make Windows 8 accessible to longtime Windows users.
What's more, it's a poor fit with traditional Windows network environments. Office 2013 RT doesn't include Outlook, and Windows RT's built-in Mail and Calendar apps are lousy substitutes. Neither can Windows RT join an Active Directory domain, so forget about Group Policy and other tools used by Windows IT managers.
That's a tough story for Redmond to sell, let alone for Windows RT OEMs to explain to customers. Given how different a Windows RT device is from a machine running any other version of Windows, past or present, the Windows RT brand actually confuses customers more than it informs them.
As it happens, Dell's PC business prez Jeff Clarke warned Microsoft of this very issue, and recommended that it drop the Windows brand from RT devices. Steve Ballmer reportedly nixed the idea.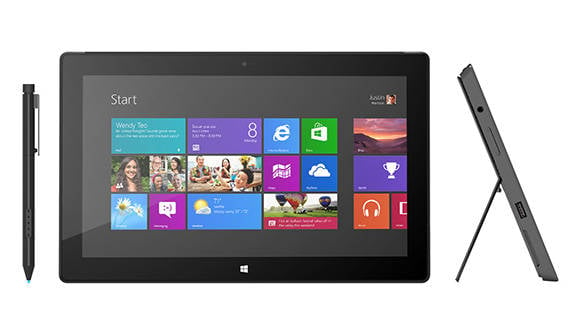 Surface Pro doesn't just give you an Intel processor running full Windows 8. You get a pen, too
Meanwhile, Redmond is readying the Surface Pro, an Intel-powered device that will look virtually identical to the Surface RT but will run full Windows 8. Microsoft's OEM partners will also bring a dizzying array of Windows 8 tablets and convertibles to market this year, including the aforementioned Clover Trail devices.
How will retail sales reps possibly be able to differentiate all of these devices from Windows RT kit? The easiest explanation is that Windows RT is just like Windows 8, only with half of the features removed. By pitting an inferior product against its own flagship OS in this way, Microsoft has all but doomed Windows RT to failure.
4. Microsoft is competing with everyone else, too
Windows 8 isn't the only OS that's vying with Windows RT in the slab space, either. There's also iOS, which remains the tablet market leader with a greater than 50 per cent share. That's just for now, though; Android tablets are poised to overtake the iPad in the coming year, particularly now that prices have dropped below the $150 mark and will likely sink even lower in 2013.
Given such heated competition, it seems strange that Microsoft would try to flog not just one tablet OS but two different ones, particularly when some analysts predict that it will take four years for Windows fondleslabs to capture even a 10 per cent share of the market.
But maybe we're not supposed to view Windows RT devices the same as we do other tablets. Maybe we're meant to see them as a new category of portable connected device, somewhere between a tablet and a traditional PC.
Let's suppose we're meant to view a Windows RT device as an inexpensive, low-powered computer in a highly portable form factor. It runs a Microsoft OS, but its small screen, underperforming processor, and limited hardware resources make it best suited for lightweight tasks, basic word processing, and browsing the web. Fair enough?
Hang on, though. That sounds suspiciously like a netbook – and we all know what happened to netbooks. The same customers who had a hard time justifying netbook purchases in recent years will struggle to see the value in Windows RT devices, particularly given the proliferation of low-cost, full-featured Windows notebooks.
Meanwhile, the current Ultrabook push means customers who want Windows and have money to burn can get their gadget fix from any number of slim, sexy laptops – not to mention the upcoming wave of "convertibles," which look a lot like Surface but don't skimp on power. With so many other options to choose from, Windows RT increasingly looks like a product in search of a market.
5. Windows RT is too closed
We all know why Microsoft wanted in on the app store game. Apple's iOS walled garden has given it a massive revenue stream, one that helped make it the most valuable company in the world. Redmond is banking that Windows' huge installed base gives it a similar opportunity with the Windows Store.
While fanbois seem content to hand Apple the reins to their computing experiences, however, vendor lock-in has always been an issue for Microsoft customers. And everything about Windows RT seems designed to railroad customers into using Microsoft's software and online services.
Just for starters, you have to sign up for a Microsoft account before you can install any apps from the Windows Store. That's true for Windows 8, too, but it chafes more on Windows RT because on that platform, the Windows Store is the only place to get software of any kind.
Naturally, that means you're pretty much stuck with Office 2013 as your productivity suite, too. There's no easy way to uninstall it, and you can't install a competitor such as LibreOffice without jailbreaking the device. (What's more, Microsoft now says it is "investigating" the aforementioned jailbreak hack, presumably with the aim of disabling it.) Your only alternative to Microsoft's suite is to use an online service, such as Google Docs.
If you do choose that option, however, you had better hope the service works with Internet Explorer. While Windows 8 allows users to install alternative web browsers, Windows RT does not. It doesn't allow any web plugins, either, and Flash content only works on certain, Microsoft-approved sites.
And if all these limitations sound like headaches for users, consider what they mean for OEMs. Apple makes its own hardware, so it makes sense that the iOS ecosystem is so vertically integrated. But what incentive is there for independent OEMs to buy into a similar model for Windows RT devices?
Microsoft controls the entire Windows RT ecosystem from end to end. Any new Windows RT devices will have to compete directly with Microsoft and Surface. And hardware makers are already seeking alternatives to platforms from big vendors in the smartphone market – why wouldn't they want the same for tablets?
Windows RT is all about placing restrictions on users, developers, and hardware makers, and with the device market already as crowded as it is, it's late in the day to expect such a strategy to succeed – even for a giant like Microsoft.