This article is more than 1 year old
Microsoft's ARM blunder: 7 reasons why Windows RT was DOA
Redmond's low-rent tablet OS was doomed from the start
6. Hardware OEMs haven't bought in
Given all the drawbacks of Windows RT, it's no surprise that hardware makers have cold feet. Earlier this month, Samsung became the latest vendor to back out of plans to build RT devices, citing the lack of "very clear positioning of what Windows RT meant in the marketplace and what it stood for relative to Windows 8."
Other erstwhile Microsoft partners have been leery since the beginning. HP – the on-again, off-again leader in global PC shipments – passed on building a Windows RT device, and the head of its personal systems division later quipped that he'd "hardly call Surface competition" for HP's own products.
Toshiba was originally on board, but it canceled its Windows RT plans in August, citing supply-chain delays – which sounds like a convenient excuse.
Acer supposedly hasn't canceled its planned device, but it has delayed its launch until the second quarter of this year at the earliest, claiming "the RT market has to evolve." If you recall, Acer CEO JT Wang was never keen on the idea competing head-to-head against Surface.
Close Microsoft partner Nokia is reportedly pressing ahead with plans to build a Windows RT-powered fondleslab, but that's hardly a huge win for the platform, seeing as how Nokia's Windows Phone–powered Lumia handsets aren't selling as well as expected.
HTC, too, says it will ship RT devices in 2013, but not until the third quarter – and even that is "tentative".
All this points to device manufacturers not being sold on Windows RT. Worse from Redmond's point of view is that they're growing less and less so. We wouldn't be surprised if more of the "delayed" devices from Microsoft partners slip into vaporware status before year's end.
What this means for you is fewer Windows RT devices to choose from, versus a glut of incoming devices running Windows 8. Unless the prices of Windows RT devices fall dramatically this year, we think we know which way customers will go.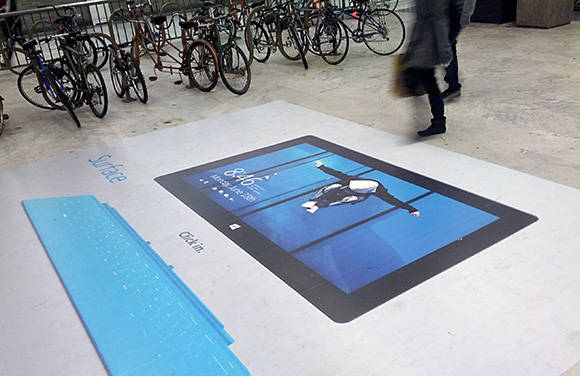 Microsoft is marketing Windows RT on every available surface (pardon the pun) – but who is it trying to reach?
7. Microsoft's marketing sucks
For all its faults, Windows RT might still have stood a chance if Redmond had managed to communicate who its audience was meant to be. But it hasn't. Three months after the Surface RT launch, it's still hard to say who the target market for an RT device is.
Microsoft's first mistake was to focus all of its marketing efforts on its Surface hardware, rather than the OS that runs on it. The words "Windows RT" never even figured into its campaign. Buy a Surface, it seemed to say, and the OS comes with it; no need to worry. But as we have shown, running Windows RT instead of full Windows isn't an advantage. It's a "gotcha".
Microsoft desperately needed to explain to consumers why removing all of the familiar functionality from Windows 8 makes Windows RT devices preferable to the Windows PCs they already use. It also might have explained what – other than the larger screen – makes a Windows RT fondleslab superior to a handset running Windows Phone 8.
Instead, we got TV ads featuring college students snapping and unsnapping their Surface slabs from their $120 Touch Cover keyboards. Lots of snapping. Not much actual work getting done.
Microsoft's Surface print ads and billboards are equally cryptic. The bold, Apple-like displays treat us to photos of Surface juxtaposed with shots of young people bouncing on trampolines, diving into waves, and riding skateboards on ramps. Yet none of the above activities calls for a connected device like Surface, that we're aware of, unless you count former Windows boss Steve Sinofsky bolting wheels onto his fondleslab.
We kid, but this point is critical: for all that Microsoft has invested into developing Windows RT and Surface, it has completely failed to craft clear messaging that sells the product on its merits and explains what kind of customers will benefit from it.
The obvious conclusion? There aren't any such customers. Windows RT is an OS that nobody asked for, sent in search of a market that's already well served by other options. Even ignoring everything else that's wrong with it, that's reason enough for it to go down in history as one of Microsoft's biggest bombs. ®