Google files patent for eyewear that SHOOTS LASERS
Burn a keyboard on your arm
Google has filed a patent for mounting twin lasers on the sides of a pair of glasses to display a keyboard on a user's body parts and use a camera to track a hand's gestures for control.
"A pattern for a virtual input device can be projected onto a 'display hand' of a user, and the camera may be able to detect when the user uses an opposite hand to select items of the virtual input device," the filing reads.
"In another example, the camera may detect when the display hand is moving and interpret display hand movements as inputs to the virtual input device, and/or realign the projection onto the moving display hand."
The patent filing shows the lasers projecting a numeric keyboard onto the palm of the hand, or highlighting function buttons on the forearm. By looking at the relevant body-part, someone wearing the specs – which look very like the Google Glass prototypes – could find some way to input data beyond speech recognition and use gesture controls on the eyewear's lenses.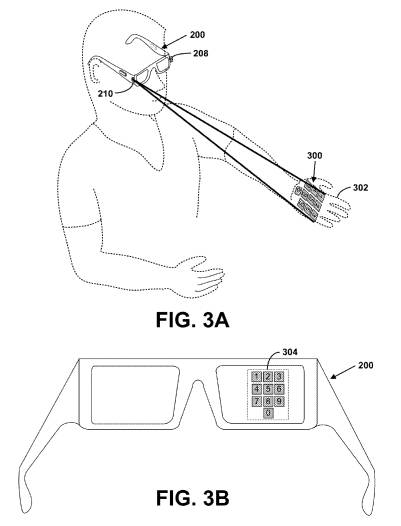 And you thought Bluetooth users looked odd
Laser projection of keyboards is a decade-old idea, but this might be the way to solve a fundamental problem with Google's hardware: reliable input. As British pranksters (among many) have pointed out, Glass has significant problems in terms of user control.
Google management is strongly behind making the Glass project a success, and Sergey Brin is seldom seen at public events without a set on. But he has private security; given the $1,500 price tag on the developer prototype and the US proclivity for street crime, the hardware could be a mugging magnet.
What isn't covered in the patent filing is the issue of screen burn. As anyone with a plasma TV will tell you, a station's logo can permanently mark a section of the screen, but the lasers involved are certainly low-power enough not to cause problems.
Nevertheless it's in interesting idea. The patent has yet to be approved, but if Google can come up with a working prototype the results could be very interesting indeed. ®